What to look for in a life jacket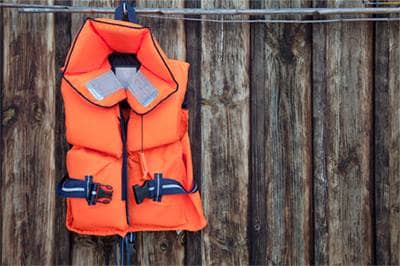 Life jackets are the single, most important accessory to take with you (and wear) when you are out on the open water. Wearing a life jacket properly greatly increases your chance of survival in a boating or marine accident. But, in order to be effective, they must be the right size and fit. Here are sizing tips, comfort fit considerations, and features to help you choose the right life jackets for you and your family. Note: When purchasing a life jacket, make sure it is USCG approved as the United States Coast Guard requires all life jackets on all recreational boats are U.S. Coast Guard-approved.
Sizing considerations
Make sure you try on different brands and styles to find the right fit for your weight and height while still remaining comfortable. The size of a life jacket varies by brand and model, so it is always best to try it on.
Chest size determines the size of life jacket for adults. To get the best measurement, measure the chest under the armpits all the way around.
Women may find life jackets made specifically for women more comfortable rather than a unisex style. They usually include princess seams, cups for busts and styles for longer torsos.
Weight determines the size of the life jacket for children.
Fit for comfort and safety
Life jackets should fit snug, yet allow for movement both in and out of water. For good freedom of movement, look for large armholes, narrow shoulder straps and a deep neck.
Choose a life jacket that is easy to get on and off. Life jackets can be put on three different ways: pullover, side-entry, or front zipper. Choose the one that makes the most sense for you as each different style provides the same benefits.
Check to see if the life jacket rides up by lifting the life jacket up by the shoulders. Now turn your head from left to right. This should allow you to look over your shoulder and not at the life jacket itself. You also do not want the life jacket neck area to ride up on your chin as this will make it much harder for you to swim.
For better buoyancy, it is best to choose a life jacket that has a robust foam back, but isn't bulky. The foam panels on life jackets are now more contoured than they used to be, so you can find one that is less bulky.
Make sure you are able to move your arms without them rubbing against the armpit area of the life jacket. You can test this best by sitting down and moving your arms in a paddling motion. If your armpits rub against the fabric – this can cause chafing and be very uncomfortable.
Life jackets for children are typically designed for extra safety, by including:
A crotch strap that prevents the life jacket from riding up.
A handle on the life jacket used to easily lift the child out of the water.
Head support that is padded to keep the child's head above the water.
Features to look for
It is best to choose a life jacket that uses plastic buckles instead of metal, so that they won't rust or corrode.
Color is important for easy spotting in a rescue situation. Bright colors such as red, orange and yellow work best. To enhance visibility, some life jackets also include reflective tape.
Pockets are a good feature to keep small items and your hands warm. Consider size and placement of pockets for easy access. It is important not to place heavy objects in the pockets, as they will obviously weigh you down.
Mesh panels are another feature to take into consideration as they can help with ventilation and enhance comfort, especially in hot weather. The panels should be easy to loosen for airflow in the heat, yet allow for fast tightening in case of rough water.
Some life jackets include tabs. These are used to attach accessories, such as a whistle or knife that can be used in case of emergency.
There are also life jackets designed to attach equipment for fishing. These may have loops for a rod, tool hangers, and a drop-down pocket for lures and flies.
We hope these tips help guide you in purchasing the safest and most comfortable life jacket for you and your family's needs. For further protection in the water, Markel boat insurance offers specialized boat insurance that protects you if you become legally liable for someone else's injuries or property damage due to a boating accident.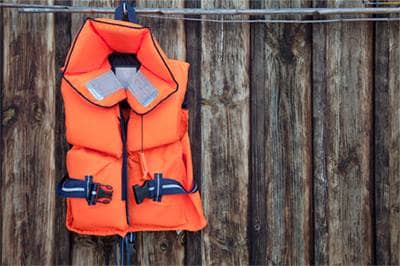 Was this helpful?
Policies as low as $100 per year.
Get a fast, free online quote today and get the protection and peace of mind you deserve. Plus, save up to 35% with our discounts.
Or call +1.800.236.2453 to speak with a boat insurance specialist.