Aerial lifts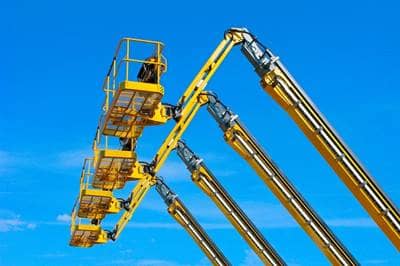 An aerial lift is any vehicle-mounted device used to elevate personnel, including:
Extendable boom platforms

Aerial ladders

Articulating (jointed) boom platforms

Vertical towers

Any combination of the above
Aerial lifts have replaced ladders and scaffolding on many job sites due to their mobility and flexibility. They may be made of metal, fiberglass reinforced plastic, or other materials. They may be powered or manually operated and are considered to be aerial lifts whether or not they can rotate around a primarily vertical axis.
Many workers are injured or killed on aerial lifts each year. OSHA provides the following information to help employers and workers recognize and avoid safety hazards they may encounter when they use aerial lifts.
Hazards associated with aerial lifts
The following hazards, among others, can lead to personal injury or death:
Fall from elevated level

Objects falling from lifts

Tip-overs

Ejections from the lift platform

Structural failures (collapses)

Electric shock (electrocutions)

Entanglement hazards

Contact with objects

Contact with ceilings and other overhead objects
Training
Only trained and authorized persons are allowed to operate an aerial lift. Training should include:
Explanations of electrical, fall, and falling object hazards

Procedures for dealing with hazards

Recognizing and avoiding unsafe conditions in the work setting

Instructions for correct operation of the lift (including maximum intended load and load capacity)

Demonstrations of the skills and knowledge needed to operate an aerial lift before operating it on the job

When and how to perform inspections

Manufacturer's requirements
Retraining
Workers should be retrained if any of the following conditions occur:
An accident occurs during aerial lift use

Workplace hazards involving an aerial lift are discovered

A different type of aerial lift is used
Employers are also required to retrain workers who they observe operating an aerial lift improperly.
What to do before operating an aerial lift
Pre-start Inspection
Prior to each work shift, conduct a pre-start inspection to verify that the equipment and all its components are in safe operating condition. Follow the manufacturer's recommendations and include a check of:
Vehicle components, e.g., proper fluid levels, leaks, wheels and tires, battery, controls, steering, brakes, etc.

Lift components, e.g., operating controls, personal protective devices, hydraulic, air, pneumatic, fuel and electrical systems, placards and warnings, mechanical fasteners and locking pins, cable and wiring harnesses, outriggers and stabilizers, guardrail system, etc.
Do not operate any aerial lift if any of these components are defective until it is repaired by a qualified person. Remove defective aerial lifts from service (tag out) until repairs are made.
Work zone inspections
Employers must assure that work zones are inspected for hazards and take corrective actions to eliminate such hazards before and during operation of an aerial lift. Items to look for include: drop-offs, holes, slopes, ceiling heights, debris and floor obstructions, overhead power lines, weather conditions and presence of others.
What to do while operating an aerial lift
Fall protection:
Ensure that access gates or openings are closed

Stand firmly on the floor of the bucket or lift platform

Do not climb on or lean over guardrails or handrails

Do not use planks, ladders, or other devices as a working position

Use a body harness or a restraining belt with a lanyard attached to the boom or bucket

Do not belt-off to adjacent structures or poles while in the bucket
---
By: Mike Huss
Risk Solution Services Consultant

Source: Occupational Safety and Health Administration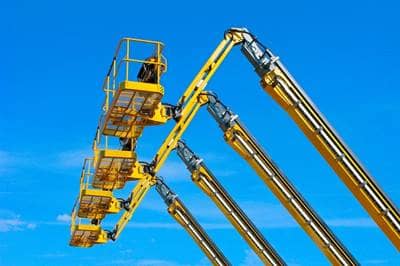 This document is intended for general information purposes only, and should not be construed as advice or opinions on any specific facts or circumstances. The content of this document is made available on an "as is" basis, without warranty of any kind. This document can't be assumed to contain every acceptable safety and compliance procedures or that additional procedures might not be appropriate under the circumstances. Markel does not guarantee that this information is or can be relied on for compliance with any law or regulation, assurance against preventable losses, or freedom from legal liability. This publication is not intended to be legal, underwriting, or any other type of professional advice. Persons requiring advice should consult an independent adviser. Markel does not guarantee any particular outcome and makes no commitment to update any information herein, or remove any items that are no longer accurate or complete. Furthermore, Markel does not assume any liability to any person or organization for loss or damage caused by or resulting from any reliance placed on that content.

*Markel Specialty is a business division of Markel Service, Incorporated, the underwriting manager for the Markel affiliated insurance companies.
© 2022 Markel Service, Incorporated. All rights reserved.

Was this helpful?