Personal protective equipment for COVID-19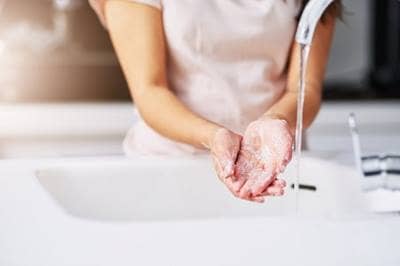 The use of Personal Protective Equipment is part of a process used to prevent the spread of the coronavirus which causes COVID-19. Our decision making should be based on information provided by state and local authorities. Updates and detailed information can be found at www.cdc.gov/coranavirus. The CDC site has written instructions and videos, including demonstrations for making cloth facemasks and wearing/removing PPE. Social distancing, frequent handwashing, avoiding touching your face, eyes, nose and mouth are crucial. Sneezing or coughing should be confined to a tissue or the inside of your elbow. Frequently used items and surfaces should be disinfected often.
If you or your employees are ill, they should stay home. Individuals who are sick should be encouraged to contact their medical provider. They are best equipped to evaluate symptoms. If someone in your home or the home of your employee tests positive for the coronavirus, everyone should stay at home and medical provider must be notified. Anyone at your business over 60, obese, diabetic, hypertensive, have cardiovascular disease or are immunocompromised, should be encouraged to stay home and away from people.
The CDC recommends that surgical masks and N-95 masks should be reserved for healthcare workers. Cloth masks are deemed adequate for the rest of us. As mentioned, there are instructions for making masks on the CDC website. The current CDC recommendation is to wear cloth masks, particularly when social distancing is difficult to maintain. As an employer, you should provide masks to employees who are working with the public while the threat of getting ill is present. Remember the only behavior you control is your own.
Don't expect everyone to abide by the six feet guideline. Masks will be effective only if used properly. Establish guidelines for your employees and your business for personal protective equipment during the pandemic. Keep the following in mind:
Wash your hands with soap and water for 20 seconds or use a hand sanitizer or alcohol based rub before putting on a mask. If you're wearing rings, be sure to wash the ring and the skin under the ring thoroughly.
Cover your nose and mouth. Make certain there are no gaps between the face and mask.
Make sure the mask is secure by tying it around your head or looping it over your ears. Make sure you can breathe easily.
Don't touch the mask. If you do, wash your hands again.
Remove and discard the mask properly. Avoid touching the front of the mask. Remove it from the back. Don't touch your eyes, nose or mouth. Put it in a bin or bag to wash again later or discard. The CDC indicates that routine clothes washing practices are adequate. Wash your hands again immediately.
What about gloves? Surprisingly, wearing gloves is not recommended, unless they keep you from touching your face. Frequent, thorough handwashing is better. To avoid cross contamination, remove gloves using the following procedure.
Pinch the outside of the first glove at the wrist. Do not touch bare skin.
Peel the glove inside out. Don't tear it.
Hold the removed glove with the gloved hand. Don't use your free hand.
Take the other glove off by inserting your fingers under its wristband. Peel it off without touching its exterior.
Turn the glove inside out, pulling it away from your body. Leave the first glove within the second one. Dispose them in the trash.
Immediately wash your hands.
As scientists and physicians gain more experience with and learn more about COVID-19, guidelines and standards will change. We have the responsibility to our employees, ourselves, our loved ones and society in general to remain well-informed and choose the safest possible behaviors.
---
By: Mike Szczygiel
Senior Risk Solution & Healthcare Specialist
References:
www.cdc.gov/coronavirus
Kupferschmidt K, "The lockdowns worked-but what comes next?" Science Vol 368 Issue 6488 April, 2020 pp 218-9.
https://cdc.gov.coronavirus/2019-ncov/hcp/guidance-risk-assessment-hcp.html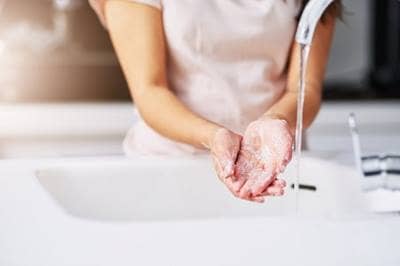 Was this helpful?