Backyard wedding ideas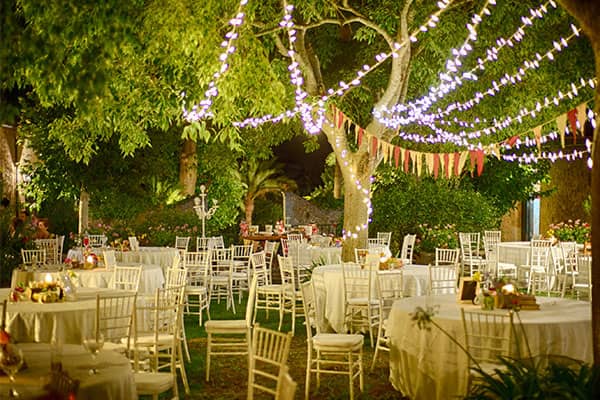 10 backyard wedding ideas
Party favors.




Think sunglasses, parasols, flip flops (to keep guests from sinking into the soil), sparkling water, umbrellas (in case of inclement weather), and blankets (for when the warmth of the day turns into the cool of the night).

Decorated Arbor.


Whether wood, metal or vinyl, an arbor consisting of fragrant, colorful vines and flowers creates a beautiful backdrop for exchanging your vows.


Games

.


Keep your guests entertained with yard games. Go big with giant bowling, jumbo connect 4, and large Jenga. Toss games are also well-loved and very popular including, Frisbee, ladder toss and Cornhole.

Seating ideas.




White wooden foldable chairs add a touch of elegance to your ceremony and can be easily transported to your reception tables. For a more intimate setting, consider picnic benches. These can also be moved from your ceremony to picnic tables for the reception. Re-purposing your seating can provide a cost-savings as well.

Refreshing drinks

.


Think lemonade, water infused with a hint of fruit, and iced tea in glass jugs at a self-service station. Guests will appreciate your thoughtfulness, especially on a hot day.


Trees

.


Use large trees to your advantage, get married under the shade of a tree, wrap lights around the trunks, string lights from tree to tree, and hang mason jars adorned with flowers or tea lights from the branches.


Practical offerings.




Provide a basket of outdoor essentials for your guests. Include items such as mosquito and tick repellent, sunblock and band aids.

Tents


A tent can be transformed into a gorgeous reception site for your backyard wedding. It can offer shade from the sun and cover from rain. A see through roof can bring in the light from the stars and provide a truly memorable setting. Hang lanterns, chandeliers, plants, garlands of greenery, pom poms, string lights, stars, lamp shades and flowers. There are endless possibilities for decorating your tent.


Centerpieces.




A variety of wild flowers in unique containers such as vintage milk bottles, mason jars or tin cans fit perfectly as centerpieces for a backyard wedding.

Signs.




Wooden signs can be created and used to lead your guests to the ceremony site, reception area, dance floor and cocktails. Chalkboards are also a unique way to label food and drinks. Be sure to look on Pinterest for fun and easy ideas.
We hope these ideas inspire you as you plan your intimate backyard wedding.
As you prepare for your day, another tip to consider is buying wedding insurance. Markel offers wedding cancellation insurance, which reimburses you for lost deposits and non-refundable amounts if you have to cancel or postpone your wedding due to unforeseen circumstances such as extreme weather, venue bankruptcy, or vendor no-shows. Coverage can be purchased anytime at least 14 days before your event, and policies start as low as $130.
Markel also offers wedding liability insurance, protecting you from incidents outside of your control such as property damage to the venue or if someone gets injured at your event. Up to $2 million in wedding liability insurance can be purchased from Markel any time up to the day before your event. Policies start as low as $75.