Beach wedding ideas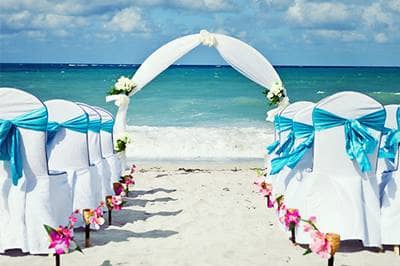 15 beach wedding ideas
Feet adornment

Sink your toes into the sand as you go barefoot at the beach. Barefoot doesn't always have to mean completely bare. The bride and bridesmaids can bedazzle their feet with barefoot sandals or beautiful anklets – simple yet sophisticated.

Seashell bouquets

Handmade seashell bouquets combined with silk flowers and ribbon can add an elegant touch to your wedding and can be enjoyed as an heirloom for years to come.

Leis

Exchanging leis is a sign of honor, respect and love and perfect for a beach wedding regardless if you are getting married in Hawaii or on a sunny Caribbean beach. Whether made of fresh or silk flowers or of seashells, leis are a wonderful guest gift or given solely to the wedding party.

Parasols

Parasols make for pretty pictures and keep your wedding party and guests shaded. They come in all different colors and styles

Floral bridesmaid dresses and Hawaiian shirts

A beach wedding calls for lighter attire to keep you cool and airy. To go with the beach theme, think floral dresses and Hawaiian shirts that complement each other. Flowers in your hair can be beautiful as well. You can surely be more creative for a beach wedding!

Bucket of flip flops

Going barefoot is optional, but for scorching hot sand, your guests will thank you for providing flip flops. (Tip: your local dollar store may even have an ample supply of flip flops in one of your wedding colors. Even though they are only a $1, they are super comfy!)

Arrive and leave in a boat

Make a grand entrance or exit by arriving or leaving in a boat. Why? Because it's your beach wedding, and it's something you and your guests will always remember.

Sand pails for kids

Children love sand, especially when they have the toys to create a magnificent sand castle. Keep them busy and entertained with sand pail playsets near the reception area so their parents can keep an eye on them. Challenge them to be creative!

Ceremony facing the water

it won't be often that you and your closest friends and family will be on your own private beach. Take advantage Facing the ceremony chairs toward the water and exchanging your vows under a flower arbor directly in front of the water makes for a breathtaking back drop.

Starfish decor

Incorporate starfish into your décor. Hang them from the aisle chairs at the ceremony, include them in your bouquets and centerpieces, adorn your cake with them, the list goes on.

Names in the sand

Draw your names in a heart in the sand for a truly memorable photo opportunity.

Lighthouse centerpieces

Lighthouses add a nautical touch to your beach wedding. Lighthouse centerpieces with candles or tea lights will set off a soft glow for a romantic evening.

Nautical rope

There a ton of great uses for nautical rope as you tie the knot at the beach! Use it to hold together your bouquets, around your centerpieces, hanging from the aisle chairs, to hold your place cards, in photo frame party favors, around the champagne flute stems – these are just a few ideas. You can even have a fun game of tug a war on the beach!

Beach towel party favors

Beach towels are a great and useful gift for your guests. Tie them with rope and color coordinate with your wedding theme.

Tropical flowers

Add a burst of color to your white wedding with a mix of vibrant tropical sunrise flowers. Incorporate them into your ceremony décor and your centerpieces.
We hope these ideas inspire you as you plan your romantic beach wedding.
As you prepare for your day, another tip to consider is buying wedding insurance. Markel offers wedding cancellation insurance, which reimburses you for lost deposits and non-refundable amounts if you have to cancel or postpone your wedding due to unforeseen circumstances such as extreme weather, venue bankruptcy, or vendor no-shows. Coverage can be purchased anytime at least 14 days before your event, and policies start as low as $130.
Markel also offers wedding liability insurance, protecting you from incidents outside of your control such as property damage to the venue or if someone gets injured at your event. Up to $2 million in wedding liability insurance can be purchased from Markel any time up to the day before your event. Policies start as low as $75.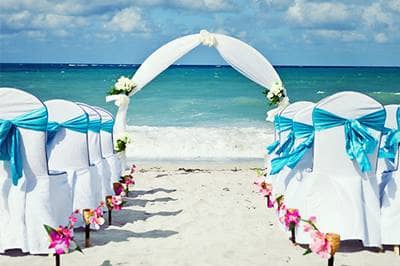 Was this helpful?
Wedding insurance policies as low as $75.
Get a fast, free wedding insurance quote online and get the protection and peace of mind you deserve. Or call +1.800.236.2453 to speak with a wedding insurance specialist.
Markel Specialty is now offering event cancellation and postponement policies and endorsements in select states. To learn more, including to see if Markel's event cancellation or postponement policy and endorsement is currently available in your state, please visit our communicable disease notice page.