The 3 most common wedding pitfalls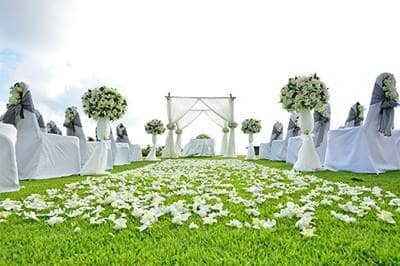 The following are three common approaches to weddings that may just end up ruining your big day, rather than adding anything positive to it. As you read, feel free to chuck any of those ideas out the window if they seem more stressful than fun.
Pitfall #1 -You need everyone present for your wedding
While many people put pressure on you to partner up, and add that they will be out to visit soon, you have to understand that many people have busy lives and can't make it anyhow. While an invite is nice, you may make people feel uncomfortable declining your offers. Rather than feel compelled to invite everyone you know, seriously consider whether attending your wedding is even viable for them.
Pitfall #2 - You have to have children at your wedding
Having children at your wedding can be a beautiful thing, but it certainly is not a requirement. You can definitely enjoy your own wedding without having young ones underfoot. While many people think you need a cute little flower girl or ring bearer, adults serve as perfectly capable stand-ins. In fact, you might be doing an adult loved one a favor by including them on the ceremony.
Pitfall #3 -It's okay to see your SO on the big day
If you know old traditions, you know a predominant myth is that it is bad luck to see your significant other on your wedding day, before getting married that is. It's simply not true that you'll be beset by bad fortune, however. Take a look at your partner, if it's what makes you happy. Fix their tie, or their hair, and help each other to the ceremony. By the time the ceremony kicks off, you'll be loving the fact that you had all of this organized by someone else, because it will definitely be worth admiring the huge congregation there, rather than plugging in behind the scenes to keep things running smoothly.
Take some time to study the above three common wedding pitfalls, and you'll save yourself from a world of pain and frustration. Get a free, no-obligation quote today!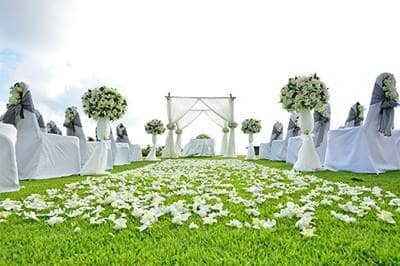 Was this helpful?
Wedding insurance policies as low as $75.
Get a fast, free wedding insurance quote online and get the protection and peace of mind you deserve. Or call +1.800.236.2453 to speak with a wedding insurance specialist.
Markel Specialty is now offering event cancellation and postponement policies and endorsements in select states. To learn more, including to see if Markel's event cancellation or postponement policy and endorsement is currently available in your state, please visit our communicable disease notice page.