7 Fall wedding ideas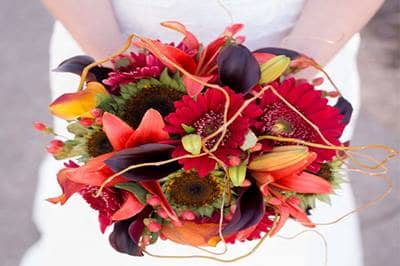 Outdoor fall wedding

The cooler weather for a fall wedding is a welcoming change from the hot summer months. The changing foliage of the season not only makes for a great background for your wedding photos, but it also provides beautiful scenery for your guests to enjoy. For this time of year, consider venues in rural areas such as; vineyards, orchards, farms, barns and botanical gardens. Since you never know what the weather can hold, also see if your venue provides covered outdoor areas such as tents with heat lamps to provide a comfortable setting for your guests. Consider providing blankets to keep guests cozy warm when the weather drops at night.

Colors

In fall, it's all about the bold colors. When planning your color scheme think about including deep purple, burgundy, orange, chocolate brown, yellow, deep crimson, gold, black, cream and green. These colors are commonly associated with autumn and are warm and inviting.

Décor

There are many fun ideas that can bring an autumnal touch to your day. Fall is all about bold and rich texture. Consider incorporating twigs, leaves, dried Indian corn, faux fruits such as apples, pumpkins and cranberries into your centerpieces. Other items with texture include draped chairs and leaf-covered tablecloths. To create an inviting ambiance, choose amber or yellow candles in candelabras for a warm glow.

Flowers

Flowers that are in season are the way to go. There are a variety of beautiful fall flowers and plants to choose from. Some of the more popular options are hydrangeas, sunflowers, deep crimson calla lilies, dahlias, roses, purple Alstroemeria, Chrysanthemum, marigold, and Gerber daisy.

Outdoor photos

Outdoor fall photos are a must. The colors of the changing leaves help create beautiful backdrops. Frolicking in the fallen leaves can add a playful element to your pictures. Consider scoping out the scenery around your venue ahead of time. Photos from the top of a hill overlooking the gorgeous colors of the trees make for a memorable moment. You can also incorporate the use of pumpkins and gourds.

Harvest-inspired menu

A harvest-inspired menu provides a comforting element to a fall wedding. Foods that fall into this category are hearty and home-style such as creamy pumpkin soup, roasted turkey or duck, cranberry sauce, butternut squash and wild rice. In addition to your cake, consider a dessert bar with warm apple pie alamode, apple crisp, pumpkin pie, apple cider donuts, and seasonal warm drinks like mulled apple cider, hot cocoa and pumpkin spice coffee.

Wedding favors

Get creative with your favors. Making a homemade favor is a great idea for the fall season. One popular homemade favor idea is homemade jelly/jam with a label that says, "spread the love." Or, you can also go with mini pumpkins or gourds, wrapped caramel apples or pine tree seedlings.
We hope these Fall wedding ideas help you plan your the wedding of your dreams. As you prepare for your wedding day, another idea to consider is buying wedding insurance. Markel offers wedding cancellation insurance, which reimburses you for lost deposits and non-refundable amounts if you have to cancel or postpone your wedding due to unforeseen circumstances such as extreme weather, venue bankruptcy, or vendor no-shows. Coverage can be purchased anytime at least 14 days before your event, and policies start as low as $130.
Markel also offers wedding liability insurance, protecting you from incidents outside of your control such as property damage to the venue or if someone gets injured at your event. Up to $2 million in wedding liability insurance can be purchased from Markel any time up to the day before your event. Policies start as low as $75.
Call 1-800-236-2453 to get a free, no obligation event insurance quote and learn more.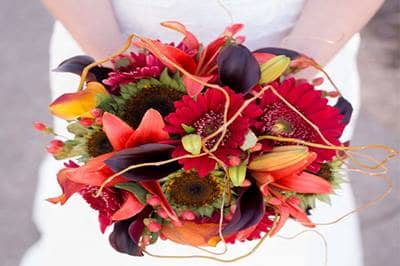 Was this helpful?
Wedding insurance policies as low as $75.
Get a fast, free wedding insurance quote online and get the protection and peace of mind you deserve. Or call +1.800.236.2453 to speak with a wedding insurance specialist.
Markel Specialty is now offering event cancellation and postponement policies and endorsements in select states. To learn more, including to see if Markel's event cancellation or postponement policy and endorsement is currently available in your state, please visit our communicable disease notice page.