Tips to help keep kids safe and entertained at your wedding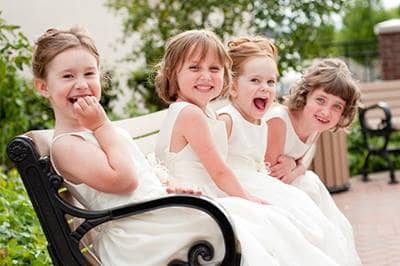 Most children are excited to attend weddings and be involved in the special day. However, the day of the wedding can be long and cause some kids to lose interest. When kids are bored they can cause trouble and get hurt. That is the last situation you want to deal with on your big day.
Wedding venues can be dangerous places for kids because many of them include lit candles and expensive décor and furniture. Or, if your wedding is held outdoors, it may be near a swimming pool or busy streets. All of the above situations can become hazardous for children without the necessary precautions.
Oftentimes, children at weddings who are around adults get injured because everyone assumes someone else is watching them, when in fact no one is. Keeping them out of harm's way will take proper planning. Here are some tips to keep your young guests occupied and having fun, so everyone can enjoy your special day.
8 tips to help keep kids at weddings safe and entertained
Involvement

Children often love to be helpful and feel included. A fun way to involve them is to create a disposable camera scavenger hunt with photos you would like them to capture of your wedding. Not only will this activity keep children busy, you get to experience your wedding through the eyes of a child.

Dancing

Consult with your band or DJ to play kid-friendly songs to provide hours of dancing fun. Two popular wedding songs kids like are the Hokey Pokey and The Chicken Dance.

Kid appropriate favor bags

Kids love goody bags. These can be packed with coloring/activity books with washable markers and crayons, Legos, puzzles and wedding games for kids. You can even provide a space where kids can play quietly together with the contents of their goody bags.

Supervised kids corner

Hire a caregiver or someone you trust to babysit the kids. You can make this a fun atmosphere where they can host a tea party, decorate cupcakes, participate in crafts or watch a movie. You can also make this corner in easy viewing distance to parents.

Photo booth with props

Most kids love to pretend dress up and take photos. From feather boas to silly glasses and hats, this activity is sure to be a hit with kids and adults alike.

Entertainment

If your budget allows, hire a magician, balloon artist or face painter to keep the kids entertained.

Safety first

Unfortunately, even with the proper planning, accidents can still occur. In those cases, it is best to have a kid-friendly first aid kit on hand that includes such things as band aids, moistened towelettes, and an ice pack. Another good idea is to know where the closest urgent care center and hospitals are, and if possible, have a pediatrician on call.

Get coverage

You want to relax and enjoy your big day. That's why it is important to purchase protection for incidents outside of your control such as property damage to the venue or if someone gets injured at your event. Up to $2 million in wedding liability insurance can be purchased from Markel any time up to 1 day before your event. Policies start as low as $75. Get a free, no obligation event insurance quote now and learn how you can protect your wedding (and yourself).
You can spend months planning your wedding and the last thing you want to worry about is something going wrong. We hope these tips help you prepare for a smooth and carefree wedding day.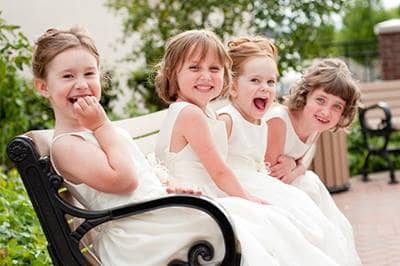 Was this helpful?
Wedding insurance policies as low as $75.
Get a fast, free wedding insurance quote online and get the protection and peace of mind you deserve. Or call +1.800.236.2453 to speak with a wedding insurance specialist.
Markel Specialty is now offering event cancellation and postponement policies and endorsements in select states. To learn more, including to see if Markel's event cancellation or postponement policy and endorsement is currently available in your state, please visit our communicable disease notice page.