Part 1: Stories from the newly engaged - How wedding planning has evolved
As we approach the one-year mark of living with the COVID-19 pandemic, many industries have fundamentally changed operations and services to cater to ongoing restrictions and new expectations of their customers. The wedding industry has seen serious change, subject to different state and municipal laws, making it difficult for both couples and vendors to plan events with confidence.
In 2020, we spoke with newlyweds who had been engaged prior to the pandemic but then found themselves postponing and scrambling to reimagine their wedding days. However, now there are many more couples who have gotten engaged – and some already married – since the pandemic began. We wanted to learn how wedding planning itself has changed and how people are evaluating their options differently right from the start, so we spoke with a variety of couples to understand how they're discussing plans, vetting options, scenario planning, and trying to preserve the most important aspects of their celebrations while potentially getting married amid a pandemic.
This is the first of a two-part series featuring couples at various points throughout the process – discussing engagement, engaged, and planning or married and awaiting a ceremony later this year. (Read part 2 here.)
Lauren and Matt
Chicago, Illinois
Married; anticipating a reception later in 2021
What was ring shopping like during the pandemic?
We shopped for engagement and wedding rings in-person, but had to book an appointment rather than just show up, due to the space. It is a tiny jeweler with hardly enough space for two people. We did find what we wanted online prior to going to the jeweler.
How are you approaching wedding planning? Are you doing a ceremony and reception?
We planned a church-only ceremony with immediate family, some of Lauren's extended family, and four of Lauren's local friends. Twelve immediate family members came to our house after the ceremony for a dinner.
With how much money a reception costs, we would like to wait until we can have at least 100 people and a party that is not subject to pandemic-related restrictions. Currently, no cocktail hour is allowed, and if we do have one, everyone has to be in assigned seats. Our goal was a party of 150, but have now made subsequent lists for 125, 100, and 75 guests. However, if we cannot have 100, we do not think it is worth the money.
What is the most important aspect of the special day to you, and what are you doing to make it possible?
The most important part was getting married. We, and both of our moms (who have passed away), are fairly religious, so we wanted to make sure we had a Catholic church ceremony. This way we could honor our faith and pay tribute to our mothers with a prayer to Mary. We have been able to celebrate a lot with our family, but we are truly looking for a big last celebration with all of our friends before we start a family.
How are you vetting vendors?
Vendors were a mix of close friends, recommendations, preferred vendors from our venue, and vendors found through our own research. Except for the venue and photographer, we have had to keep a close eye on contracts, deposits due, and timeline for cancellation purposes. We are coming up on 90 days before our date, which has been the date to decide next steps, and are hopeful our vendors will give us some wiggle room on final payments and cancellation policies since much is still unknown during this time. We understand they are also running a business, but it's so uncertain right now that we feel cornered.
How is this different than you envisioned it being?
Everything is different. We are very lucky that we were able to have a few of the big fun wedding things like a virtual shower and our bachelor and bachelorette parties. But I had a different wedding dress experience. I was allowed one guest with a mask, had a time limit, and didn't get to have champagne. Due to everything being closed and appointments being pushed back, I was on a time crunch and felt pressured to purchase the first dress I saw and liked. Don't get me wrong: I love my dress! It's just not how I thought the experience would be.
I also did not envision picking out save-the-dates and then crying hysterically when realizing we may not be able to have the wedding. Many family members could not attend due to the pandemic. While I knew I would be a nervous wreck before the wedding, the city could have decided at any point to shut down all ceremonies despite our efforts to be as safe as possible with 12 in attendance and COVID-19 testing completed. I also didn't expect to host in my home a rehearsal dinner, brunch for getting ready, and a full reception for 12 – and then having to clean up the next day!
Sarah and Tim
Benton Harbor, Michigan
Engaged; wedding and reception in September 2021
What was ring shopping like during the pandemic?
Tim did it all online, so he was pretty nervous waiting for it to arrive to see what it looked like since he hadn't seen it in person beforehand.
How are you approaching wedding planning? Are you doing a ceremony and reception?
We got engaged in June 2020 and were definitely more tentative in planning since we weren't sure what would be possible. We opted for September 2021 to give more time to make sure people could be vaccinated before. So, we waited until we could have a decent sized wedding!
What is the most important aspect of the special day to you, and what are you doing to make it possible?
The most important thing to both of us at this point is just all our friends and family being able to be together to celebrate. The ceremony will be outside to make sure it's okay for everyone to be there, and we'll wear masks if it's necessary at that point.
How are you vetting vendors?
It's definitely been hard. We've relied way more heavily on reviews on websites and on video calls since we can't meet in person.
How is this different than you envisioned it being?
I never thought that the planning would be this anxiety-provoking!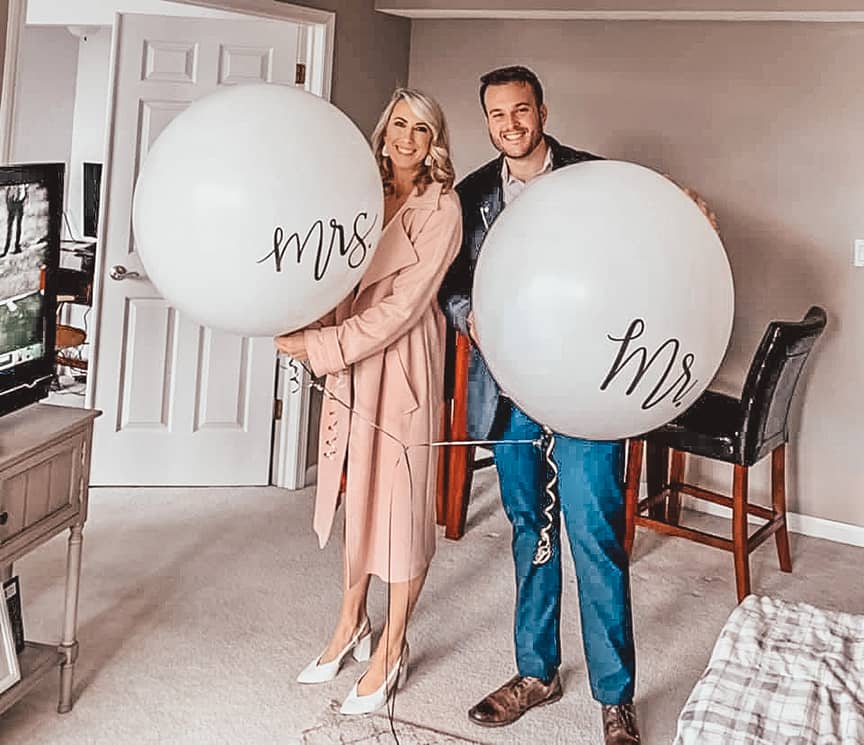 Nikki and Karl
Naperville, Illinois
Engaged; ceremony in July 2021 and reception in August 2021
What was ring shopping like during the pandemic?
Karl did most of his research online, and he also talked to his buddies who've already gone through the process of purchasing a ring. He knew what ring I wanted, and he took a photo of that ring to a family jeweler to use as inspiration for the design. He went in-person three times – the initial meeting, selecting the diamond, and final evaluation of the ring.
How are you approaching wedding planning? Are you doing a ceremony and reception?
We want to get married in 2021, even if it is just us and our family. As two 30-year-olds, we did not want to let the pandemic prevent us from moving forward with our lives and overall goals, which involves hopefully starting a family soon. We are getting married in a Catholic church in July with just our immediate family, and then we will have our reception in Wisconsin in August. They're not too far away from each other, but coordinating dates was not easy with all of the postponed weddings from 2020. We were lucky to get a summer Saturday in 2021!
We selected a smaller, outdoor venue in Wisconsin that fits no more than 155 people as Wisconsin had fewer restrictions for events than Illinois did. When we toured the venue this past September, we asked if things remained the same (i.e. if nothing changed/got better with regards to the pandemic), could we still have our wedding there with 155 people? They said yes, which made us feel more secure with our decision. Of course, no one can predict the future, but we are hopeful to share our special day with our closest family and friends.
What is the most important aspect of the special day to you, and what are you doing to make it possible?
The most important thing is each other. We are making the best of the situation and working around the constraints that are in place. We look forward to having as many of our closest family and friends there as well as delicious food, drinks and live music!
How are you vetting vendors?
Our venue only works with one catering company, so that made deciding on food and beverage quick and easy. For other vendors, I did a lot of research on theknot.com and weddingwire.com. It was interesting because neither of us are from the venue area, so we had no clue who to use. Luckily, we found a lot of great vendors from reading reviews, and we were able to meet with most of them via video chats to discuss options, pricing, and whether or not it would be a good fit.
How is this different than you envisioned it being?
The tricky parts have been basically everything else, like having an engagement party, dress shopping (e.g. wearing a mask, limited number of people who can join you, and limits to how many dresses you may try), planning a honeymoon – things like that! It's definitely atypical, but it's doable. We are trying to focus on the important things, such as us as a couple and beginning a new life together. A wedding, when you think about it, is just a day. Although we wish life were back to "normal", we are still excited to have each other and the ability to still plan a special day.
Meredith and Emily
Kansas City, Missouri
Planning engagement
What was ring shopping like during the pandemic?
I've been ring shopping in person. It's hard because most places have limited hours now, so trying to do this while working two jobs was a trip. I eventually found a very, very small jeweler that I love. However, they're appointment-only, so it's been a long, drawn-out process due to schedules.
How are you approaching wedding planning? Are you doing a ceremony and reception?
We've spoken about this a lot. Even though we haven't "proposed" to each other yet, this pandemic has changed how we talk about our future in addition to the political climate making us concerned about our right to get married. We contemplated if we should go to the courthouse and get hitched, but while I don't want to have a huge wedding, I still want it to be special with rings and fancy clothes. Because of the pandemic, my girlfriend's thoughts and feelings have changed about having at least her parents there. It was horrible for her to go so long without seeing her parents that the idea of marrying in private without them was abhorrent.
I think we'll plan a small ceremony likely will both of our parents. Then we'll probably have a large reception, but honestly, even planning it seems silly. We would want to have it in Wisconsin where we met, even though we don't live there. With the travel restrictions, we're not interested in taking these chances.
What is the most important aspect of the special day to you, and what are you doing to make it possible?
I want it to be special for us. For me, it's material things – rings, a dress, etc. But for her, it will probably be something a little bigger, which is fine. She's in law school, so we're willing to wait for as long as we can, as long as nothing happens to her parents (who are elderly), as having them there is really important to her.
How are you vetting vendors?
Because we're gay, we'd vet vendors closely regardless of a pandemic, because we aren't interested in giving our time, money, and experience to those who aren't supportive. But we will also vet for good reviews and ethical positions, including how businesses have been handling the pandemic. We'd want some sort of clause to understand what would happen if our venue shuts down. I know that's bleak, but so many businesses are closing due to the pandemic and we'd want to know what would happen to our deposits. We haven't gotten far enough yet to be evaluating contracts.
How is this different than you envisioned it being?
Normally, I think we would have proposed first and then talked a bit more about logistics and what we want for a wedding. Instead, we're having a fuller conversation at the start because of the pandemic.
---
Get a free, no-obligation event insurance quote
While pandemics might not be covered under most event cancellation policies, event cancellation insurance should still be considered "must-have" for any wedding as other unforeseen, covered circumstances – such as extreme weather, vendor bankruptcy, and military deployment – can force couples to postpone or cancel.
Markel offers both event cancellation and event liability insurance for weddings, with policies starting as low as $75. Just answer a few questions about your event and get a free insurance quote in minutes.
This document is intended for general information purposes only, and should not be construed as advice or opinions on any specific facts or circumstances. The content of this document is made available on an "as is" basis, without warranty of any kind. This document can't be assumed to contain every acceptable safety and compliance procedures or that additional procedures might not be appropriate under the circumstances. Markel does not guarantee that this information is or can be relied on for compliance with any law or regulation, assurance against preventable losses, or freedom from legal liability. This publication is not intended to be legal, underwriting, or any other type of professional advice. Persons requiring advice should consult an independent adviser. Markel does not guarantee any particular outcome and makes no commitment to update any information herein, or remove any items that are no longer accurate or complete. Furthermore, Markel does not assume any liability to any person or organization for loss or damage caused by or resulting from any reliance placed on that content.

*Markel Specialty is a business division of Markel Service, Incorporated, the underwriting manager for the Markel affiliated insurance companies.
© 2022 Markel Service, Incorporated. All rights reserved.

Was this helpful?
Wedding insurance policies as low as $75.
Get a fast, free wedding insurance quote online and get the protection and peace of mind you deserve. Or call +1.800.236.2453 to speak with a wedding insurance specialist.
Markel Specialty is now offering event cancellation and postponement policies and endorsements in select states. To learn more, including to see if Markel's event cancellation or postponement policy and endorsement is currently available in your state, please visit our communicable disease notice page.