Part 2: Stories from the newly engaged - How wedding planning has evolved
Last year, we spoke with newlyweds who had been engaged prior to the pandemic but then found themselves postponing and scrambling to reimagine their wedding days. Since then, many couples have gotten engaged – some already married – and we wanted to learn how wedding planning itself has changed as COVID-19 continues to impact the wedding industry.
We spoke with a variety of couples to better understand how they have to approach planning differently right from the start, sometimes even before they officially get engaged. This is the second piece of a two-part series featuring couples at various points throughout the process. (Read part 1 here.)
Meredith and Phil
Milwaukee, Wisconsin
Engaged; ceremony and reception in August 2021
What was ring shopping like during the pandemic?
Ring shopping was smooth for the most part, albeit some bumps in the road. We went to look at different styles and designs before COVID-19. We looked at ring inspiration online as well, but we could shop in-person since it was before lockdown. The jeweler is a family friend of Phil's, and unfortunately had to close for a month or two but was aware of Phil's timeframe and pushed vendors to finish the ring. If it weren't for the existing relationship with the jeweler, Phil may have been in a much harder situation – either postponing the engagement to a different date or going with a different ring.
How are you approaching wedding planning? Are you doing a ceremony and reception?
We're planning a ceremony and reception in August 2021. Truthfully, we're hoping for the best, but preparing for the worst. We're trying to approach it with an open mind and optimism. It's definitely a stressful time, but this whole process is forcing us to consider options A, B, C, and in some cases, even plan Z. We try to assess all scenarios and discuss potential changes proactively so we're ready to change, if needed, and not scrambling. Phil has great project management skills so he's tracking a lot of things and having back-up options available in case something falls through.
While we don't know what our wedding will look like in August, we're planning as if it's going to happen. If guests need to be vaccinated, masked-up, and keeping six-foot distance, we're ready to do so. If gatherings bigger than a certain size (e.g. 50) are not permitted, we'll move forward with getting married on that day and hosting a big party one year later on our anniversary.
What is the most important aspect of the special day to you, and what are you doing to make it possible?
The most important part is having all of our friends and family there. We don't want to hold back on getting married that day, but if we need to postpone the celebration, we'll create a similar day when we're able to.
We're having discussions now and trying to get clear requirements and transparency from the venue:
What would the venue do if there's a state limitation on gathering sizes?
If things are somewhat back to normal and open like they used to be, would we require people to get vaccinated? What if they aren't able to?
Would we require a negative COVID-19 test if someone isn't vaccinated? Are we going to require masks regardless?
What environment would be the most welcoming but also the safest for guests?
How are you vetting vendors?
We're going with vendors who have a backout clause or would allow us to postpone to a future date (pending availability). If a vendor doesn't allow that, we make sure that's a risk we're okay taking.
How is this different than you envisioned it being?
In some cases, it's more anxiety-inducing. It's causing us to over-think, over-plan, have back-up options, and deal with a lot of ambiguity. A wedding shouldn't be planned in ambiguity. We both have family in different states and countries, and these events are usually perfect excuses to get the family all together. If some sort of virtual component needs to be added, we'll miss seeing their faces in the crowd or dancing the night away.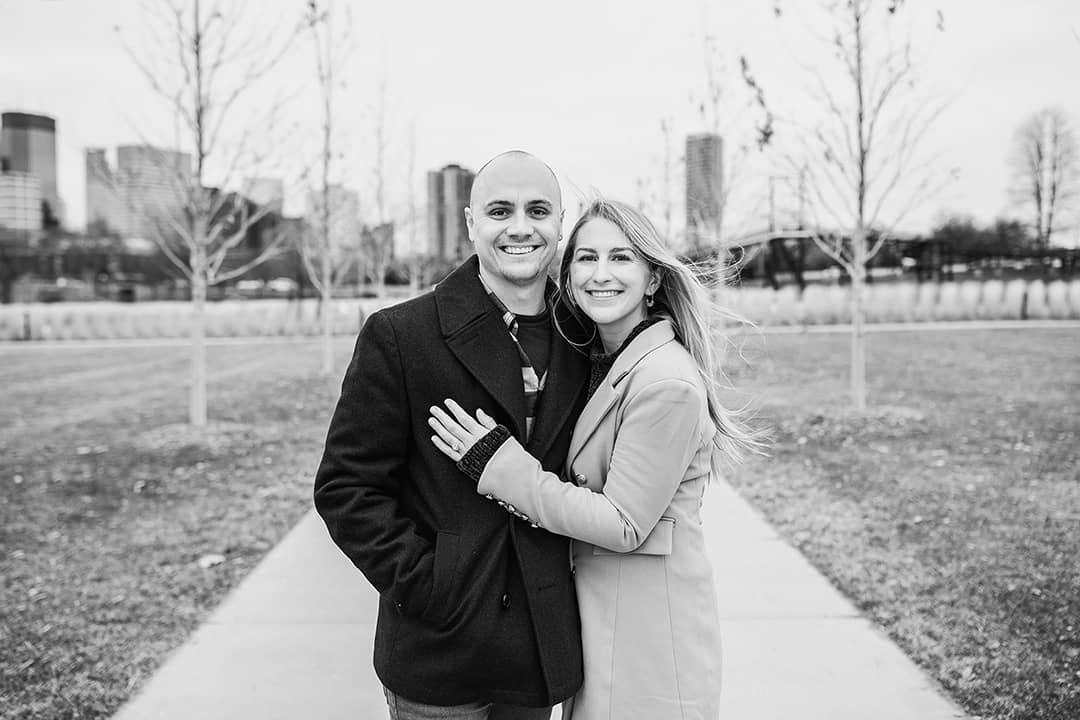 Megan and Evan
Minneapolis, MN
Engaged; ceremony and reception in July 2021
What was ring shopping like during the pandemic?
I went ring shopping with a friend in February 2020 to get a feel for what I liked. Little did I know that friend had the store save the info for Evan. So, we didn't shop together and didn't discuss the proposal, but he bought the ring I had picked out. He first contacted the store in March and scheduled an appointment to buy the ring, but that was cancelled as COVID-19 became our new reality. He wasn't able to get the appointment rescheduled until June, and then he had a "drive-by" ring pickup from the store. This pushed his proposal timeline back three months, but I wasn't aware of the timeline anyway so didn't find about this until after the fact.
How are you approaching wedding planning? Are you doing a ceremony and reception?
Overall, planning has been a big source of anxiety. I'm so happy to be engaged and to be planning our lives together, but the thought of planning this wedding is riddled with so many obstacles and unknowns that it's hard to savor being in the moment. Evan proposed in August 2020 and we're getting married in July 2021. Our invite list is about 120 people, and our venue is pretty big. When we toured in the fall, they said it would fit our guest count even at the 25% state restriction at the time. So we feel okay about our timing allowing our guest count.
If we need to scale back attendance, we would make the most of it and call it a day. A reception 6-12 months after the fact feels disjointed to me, and, frankly, I'm already ready to be done with planning. Having wedding planning on my to-do list for another six months sounds like torture. We will have the ceremony and reception for those who can attend, and can have a live streaming component for those who can't.
But more than anything, I don't want to make anyone uncomfortable. I was in a family member's wedding in June 2020 that required travelling from Minnesota to Florida. They are dear to me, but do not follow or respect COVID-19 regulations. I spent three months debating if I should attend my brother's wedding (where I was the "best woman") because I was so vehemently against traveling across the country during the height of the pandemic to a state that openly flaunted not following CDC recommendations. I resented the position they put me in and the risk posed to people like my parents who are in their 60s. I ended up going and was glad I did, but I acutely remember the anxiety and resentment I felt. I don't want to put any of my loved ones through that. I don't want anyone to feel unsafe or obligated to do something that makes them uncomfortable. But with that being my guiding principle, it's difficult to plan a wedding until there's more certainty. My fiancé and I agreed we will have a wedding regardless of what the world looks like come summer 2021 and feel comforted that our big venue will give us enough flexibility.
What is the most important aspect of the special day to you, and what are you doing to make it possible?
The most important aspect is having all our loved ones there. We have pockets of different friend groups and family across the country and have never had them all together. This is probably the one time in our lives that we'll have the most important people to us all together.
In the end, our wedding party and immediate family are the priority. We'll prioritize key people and accommodate what we can to make it work. For example, I'm planning on virtual showers so everyone is comfortable and doesn't need to travel until the big day. We're going with online direct to consumer companies for bridesmaid dresses and groomsmen suits so they can order themselves and we don't need to have appointments together.
How are you vetting vendors?
I've heard of vendors going out of business after dozens of couples have already paid their deposit and booked them. While I want to support small businesses, I'm not willing to risk losing money on a deposit and not being able to find a new vendor last minute. Because of that, we're working with some of the biggest vendors in the city as their size gives us a better sense of confidence that they'll be able to pull through and make good on our investment.
How is this different than you envisioned it being?
I never imagined our loved ones fearing for their safety. I don't care if we need a small ceremony, need to wear masks, cut attendees by half, socially distance, etc. I just want everyone to be safe. I don't have a wedding vision on a pedestal that I'm trying to achieve, but it's really hard to feel responsible for others' stress and uncertainty.
Kelli and Todd
Bellevue, Iowa
Engaged; wedding and reception in August 2021
What was ring shopping like during the pandemic?
Todd bought the ring in person. I had no idea he was shopping for it!
How are you approaching wedding planning? Are you doing a ceremony and reception?
We are planning a wedding ceremony and reception in August 2021. The church live-streams ceremonies, so if people aren't comfortable attending in person, they will at least be able to watch the ceremony virtually. The reception will be in person at a venue that has an outdoor patio area that we will have access to, offering a hybrid type of reception if COVID is still a threat.
What is the most important aspect of the special day to you, and what are you doing to make it possible?
To get married surrounded by the people we love. We are getting married in a large church, so we will be able to make it happen!
How are you vetting vendors?
We've been doing it online, via phone, and in person. We did the venue and catering evaluation in person. My uncle is the DJ, and my family has a band, so it hasn't been too difficult to schedule that. The photography meeting was virtual. So far we have not seemed to encounter any special cancellation or postponement clauses.
How is this different than you envisioned it being?
The only difference is that we may have to watch our guest number, so we were very selective on who was sent a save the date.
---
Get a free, no-obligation event insurance quote
While pandemics might not be covered under most event cancellation policies, event cancellation insurance should still be considered "must-have" for any wedding as other unforeseen, covered circumstances – such as extreme weather, vendor bankruptcy, and military deployment – can force couples to postpone or cancel.
Markel offers both event cancellation and event liability insurance for weddings, with policies starting as low as $75. Just answer a few questions about your event and get a free insurance quote in minutes.
This document is intended for general information purposes only, and should not be construed as advice or opinions on any specific facts or circumstances. The content of this document is made available on an "as is" basis, without warranty of any kind. This document can't be assumed to contain every acceptable safety and compliance procedures or that additional procedures might not be appropriate under the circumstances. Markel does not guarantee that this information is or can be relied on for compliance with any law or regulation, assurance against preventable losses, or freedom from legal liability. This publication is not intended to be legal, underwriting, or any other type of professional advice. Persons requiring advice should consult an independent adviser. Markel does not guarantee any particular outcome and makes no commitment to update any information herein, or remove any items that are no longer accurate or complete. Furthermore, Markel does not assume any liability to any person or organization for loss or damage caused by or resulting from any reliance placed on that content.

*Markel Specialty is a business division of Markel Service, Incorporated, the underwriting manager for the Markel affiliated insurance companies.
© 2022 Markel Service, Incorporated. All rights reserved.

Was this helpful?
Wedding insurance policies as low as $75.
Get a fast, free wedding insurance quote online and get the protection and peace of mind you deserve. Or call +1.800.236.2453 to speak with a wedding insurance specialist.
Markel Specialty is now offering event cancellation and postponement policies and endorsements in select states. To learn more, including to see if Markel's event cancellation or postponement policy and endorsement is currently available in your state, please visit our communicable disease notice page.