What to do when COVID-19 ruins your wedding plans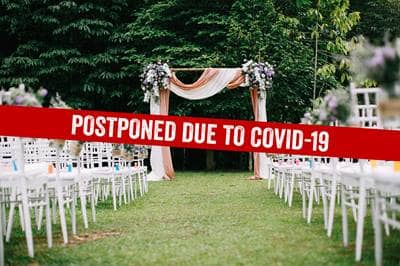 In the huge range of problems caused by the COVID-19 crisis, the impact on upcoming weddings and other social events clearly takes a back seat to concerns over the public health. But that doesn't make wedding postponements or cancellations any less pressing for those who had been planning an event for months and now face the challenge of what to do next.
With little certainty on when it will be safe to hold gatherings again, wedding planners and engaged couples are making a number of tough decisions. Those whose big days are right around the corner may be scrambling to find a different way to celebrate, as it may be too late to cancel contracts.
For those who have event cancellation insurance in place, some of the financial ramifications may be eased, depending on the policy. However, there is still a lot of work for planners and couples who want to create a new back-up plan. Following are some recommended steps to consider.
How to cancel or reschedule a wedding
1. Find out what your event insurance policy covers. If you purchased event insurance, talk with your agent to understand whether the current circumstances are covered. Some policies are covering COVID-19 cancellations, but other policies may not. It will be important to know what kind of financial relief you can expect, as that may impact whether you try to reschedule the event or simply try to make the best of your existing event plan.
2. Review your vendor contracts and talk with them. Reread each vendor's contract so you know the terms for cancellation and whether you can expect any of your deposits back. Then contact all of the wedding vendors as quickly and efficiently as possible to determine future availability. Because COVID-19 is impacting everyone in hospitality and entertainment, vendors may have more flexibility in rescheduling right now.
Talk with vendors about expectations for the future event. Is there a postponement fee if your new date is not in 2020? Do your vendors need to redo work for the new event, and if so, is there additional cost for that?
3. Request refundable deposits – but don't expect them back. Some deposits are not refundable. Others are, and in normal circumstances, many vendors are accommodating and willing to return them. However, given the economic setbacks most businesses are experiencing during the pandemic, vendors may not be able to do that. If you are rescheduling your event, instead ask if they will consider the deposit a credit toward the future event. If you have event insurance, you will need to have a list of non-refundable deposits and other non-reimbursable expenses for your claim.
4. Find a new date. Talk with your most important vendors – venue, caterer, photographer and entertainment – to coordinate dates that could work for all the important players. At this point, their fall wedding schedule may already be full, so be prepared to look at winter dates or into 2021. Otherwise, consider other days of the week, such as Fridays or Sundays.
5. Update your guests. Have you already sent the invitations? Send a physical or digital update to your family and friends to let them know of the updated plans. If you have printed invitations but haven't sent them yet, talk with your vendor to see if they will develop an insert that can be tucked into the original invites. Many designers and printers are already rallying to help engaged couples, offering quick design solutions that help communicate quickly.
6. File your insurance claim. If you have an event cancellation policy that covers the COVID-19 pandemic, file your claim. By now, you will know which refunds you can expect to receive and which are lost. You need this information to detail the financial impact.
7. Revisit your wedding theme and other details – but only if you want to. If you had planned a spring or summer wedding and are now getting married in a colder month, you might want to consider changes in attire or accessories for comfort. Couples may want to select different flower arrangements or lighting schemes if vendors allow flexibility. Just remember that no one expected this, so couples shouldn't feel pressure to change the stylistic details just because the date had to change. These are truly unique circumstances.
We want to hear your stories: How are you making the best of it?
While COVID-19 has caused hardship and stress, there are also shining examples of resilience, adaptability and ingenuity. Whether you are a wedding planner or a future bride or groom, how are you making the best of it? If it's too late to reschedule, how are you moving forward with a very different wedding day? If you are able to reschedule, what have you done to reimagine the day?
We want to hear from you and with your permission will share your story. Email us your story at maicmarketing@markel.com.
This blog is intended for general information purposes only, and should not be construed as advice or opinions on any specific facts or circumstances. The content of this document is made available on an "as is" basis, without warranty of any kind. This publication is not intended to be legal, underwriting, or any other type of professional advice. Persons requiring advice should consult an independent adviser. Markel does not guarantee any particular outcome and makes no commitment to update any information herein, or remove any items that are no longer accurate or complete.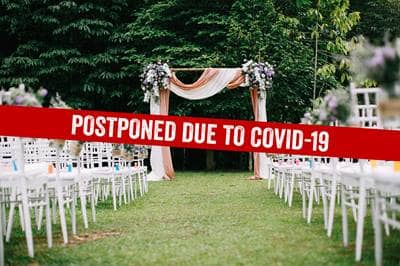 Was this helpful?