85 questions to ask your wedding destination resort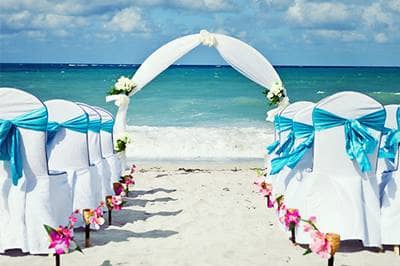 Planning a destination wedding is exciting, but can also be overwhelming. Typically, it isn't practical to visit each prospective location prior to your wedding because of the extra expense and time. That is why it's important that the destination you choose can accommodate all of your needs. Many destination resorts that cater to destination weddings provide an onsite coordinator who can do most of the work for you, but you will still need to ask the right questions. To guide you,
Markel wedding insurance
experts compiled a list of questions to ask potential resort destinations for your destination wedding.
85 important questions to ask a wedding destination resort
General

Is the resort available on the date you need it?
What other events are going on at the venue on the same day/week/weekend?
Is there another private event scheduled for the area you are requesting at a different time during the same day?
How far in advance do you need to book the venue?
What is the weather typically like in the month of your wedding?
What are the local marriage requirements?
Are there any vaccinations required?
Do we need to send any documentation prior to arrival (proof of citizenship, passport, etc.)?



Resort

Who is the onsite wedding coordinator?
How many guests can the venue accommodate?
Are there overnight accommodations or do they partner with local hotels?
Does the venue provide a website for your wedding information?
Can they provide references you can contact?
What other types of activities are scheduled at the resort?
Can your package include weekend activities for the guests?
What is the dress code?
Are children allowed on premises?
Can guests drink the water?
Are you able to have a rehearsal at the venue and a rehearsal dinner?



Decorations

What do they use for table settings?
What decorations does the venue provide?
What type of flowers do they offer or do they recommend a florist?
Do you have to provide your own place cards?



Wedding Day Preparations

Do they recommend or offer hair stylists?
Do they recommend or offer make-up artists?
Do they recommend or offer make-up artists?



Ceremony

Can the venue accommodate the ceremony?
Are the ceremony and reception held in the same area? If same area, what can be expected for set up and take down to switch over from the ceremony to the reception?
How many days before the wedding do you need to arrive?
What time of the day is the ceremony?
Does the venue provide an officiant or recommend one?
How long is the ceremony?



Reception

How long are you able to have the area?
Is an outdoor area included for a cocktail reception?
Do they have outdoor covered areas such as canopies or tents in case of rain?
Do they have indoor space available if you need to move people outside to inside?
What does a typical layout of the area look like on the wedding day?
Do they have photographs to show you of other receptions?
What are the seating arrangements?
Are there booster seats or high chairs available for children?



Food

What are they different ways the venue serves food? Buffet, family style, individual plates?
Do they provide in-house catering? If not, do they have a preferred list of caterers?
What does the venue provide for drinks with the meal?
Can they accommodate special diets?
How many choices can you offer your guests for meals?
How many wait staff will be provided?
What does the wait staff wear?



Photography

Do they have a photographer or can they recommend one?
Are there any photograph or video restrictions?
What suggestions do they have for locations to photograph?



Transportation

Does the venue offer airline booking services for your guests?
Do they offer transportation to and from the airport?
What type of transportation is available if your guests stay off site?



Cake

Can they provide a wedding cake?
Where/how will the cake be displayed during the reception?
Is there a cake-cutting fee?



Alcohol/Liquor

Does the venue have a liquor license to serve alcohol?
Does the venue provide the alcohol and bar service?
What drinks are included in the pricing? All-inclusive?
Do they provide a cash bar or an open bar?
Does the venue hire the bartenders and is there a charge per bartender?
Do they charge for unopened bottles after the reception?
Is there a corkage fee?
Are there any restrictions on the type or quantity of alcohol to be served?



Music/Dancing

What do they offer for music?
Can you supply our own music or CD?
What do they have for a sound system? Speakers, microphones, etc.?
How many people does the dance floor accommodate?
What time do they allow the music to play until?
Do they have a generator for power outages?



Payment

What are their wedding packages and what is included?
What is the cost to have both the ceremony and reception at the venue?
What is the total cost and what is required for a deposit?
What are the guest room rates?
Is there a wedding discount for blocks of rooms?
Is there a discount if you decide to stay for your honeymoon?
What is the currency exchange rate?
Do they offer payment plans?
What type of payment can they take – cash, check, credit card?
What it their cancellation policy?
Do they provide a contract and guarantee that everything will be in good working order?



Insurance

What are the insurance requirements for you and your vendors?
Does the venue have its own insurance coverage?



Safety

Do the resort rooms have safes to secure valuables?
Is there a secure area to store the wedding gifts?
We hope this list of questions helps guide you in preparing for your big day at a destination of your dreams. But, even with the best planning, there are situations that can occur that are out of your control. That is why we recommend wedding insurance.
Markel offers wedding cancellation insurance, which reimburses you for lost deposits and non-refundable amounts if you have to cancel or postpone your wedding due to unforeseen circumstances like extreme weather (think hurricane or tropical storm) wreaking havoc on your destination wedding location. It can also cover stolen gifts, a wrecked gown, lost wedding rings and more. Coverage can be purchased anytime at least 14 days before your event, and policies start as low as $130.
In addition, Markel offers wedding liability insurance, protecting you from incidents such as property damage to the venue or injury to a guest. Up to $2 million in wedding liability insurance can be purchased from Markel any time at least 1 day before your event and covers your ceremony and reception, rehearsal and setup/takedown. Policies start as low as $75.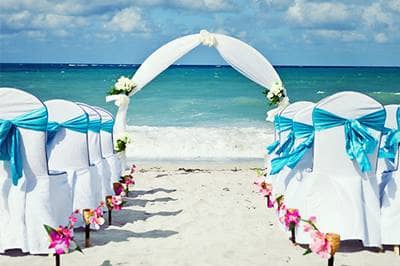 Was this helpful?
Wedding insurance policies as low as $75.
Get a fast, free wedding insurance quote online and get the protection and peace of mind you deserve. Or call +1.800.236.2453 to speak with a wedding insurance specialist.
Markel Specialty is now offering event cancellation and postponement policies and endorsements in select states. To learn more, including to see if Markel's event cancellation or postponement policy and endorsement is currently available in your state, please visit our communicable disease notice page.