40 questions to ask your wedding caterer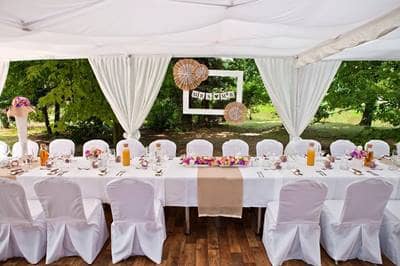 Your menu is an integral part of your special day. That is why it's important to choose a caterer that can meet your needs and fit within your budget. To guide you, we put together a list of questions to ask potential caterers.
40 important questions to ask a wedding caterer
Is the caterer available on the date you need them?
How long have they been in business?
How many events/weddings do they cater per year?
How many guests can the caterer accommodate?
Is the caterer catering other events on the same day?
Is there a cost for setup and take down?
How much time does the caterer need to setup and take down?
What are the different ways the caterer serves food? Buffet, family style, individual plates?
Where does the caterer make the food?
Does the caterer provide certain foods such fresh or frozen, locally grown, organic, and specific cuisines?
Can they accommodate special requests such as gluten-free, kosher, vegetarian and children's meals?
Can you create a themed food menu?
Can you arrange for a tasting?
Is there a cost for a tasting?
How many choices can you offer your guests for meals?
How many servers will be provided?
What do the servers wear?
Do they provide the beverages and alcohol?
Do they have a liquor license?
Do they charge per person or by the amount of alcohol consumed?
What brands of alcohol do they serve?
How many bartenders and bars do they provide?
Do they provide the cake?
Do they help cut or serve the cake?
Is there a cake-cutting fee?
Do they offer desserts?
Do they provide tables, chairs, napkins, plates, glasses and silverware?
Do they offer food and drink packages?
What is the gratuity percentage?
What is the total cost and what is required for a deposit?
Do they offer payment plans?
What type of payment can they take – cash, check, credit card?
What it their cancellation policy?
Have they worked with your venue in the past?
Do they have a food service business permit?
Does the caterer have insurance coverage including liquor liability (if served)?
Does the caterer have a license?
Can the caterer provide references?
When does the caterer need your final food choices and guest count?
Can leftover food from the event be packaged to take home or donated?
We hope this list of questions helps guide you in preparing for your big day. But, even with the best planning, there are situations that can occur that are out of your control. That is why we recommend wedding insurance.
Markel offers wedding cancellation insurance, which reimburses you for lost deposits and non-refundable amounts if you have to cancel or postpone your wedding due to unforeseen circumstances – like your caterer going out of business! It can cover stolen gifts, a wrecked gown, lost wedding rings and more. Coverage can be purchased anytime at least 14 days before your event, and policies start as low as $130
In addition, Markel offers wedding liability insurance, protecting you from incidents such as property damage to the venue or injury to a guest. Up to $2 million in wedding liability insurance can be purchased from Markel any time at least 1 day before your event and covers your ceremony and reception, rehearsal and setup/takedown. Policies start as low as $75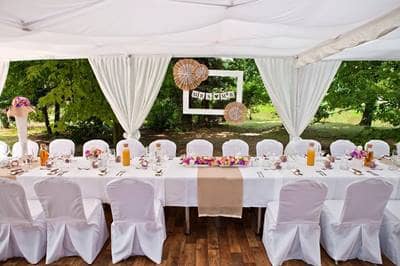 Was this helpful?
Wedding insurance policies as low as $75.
Get a fast, free wedding insurance quote online and get the protection and peace of mind you deserve. Or call +1.800.236.2453 to speak with a wedding insurance specialist.
Markel Specialty is now offering event cancellation and postponement policies and endorsements in select states. To learn more, including to see if Markel's event cancellation or postponement policy and endorsement is currently available in your state, please visit our communicable disease notice page.