Tips for traveling with your wedding dress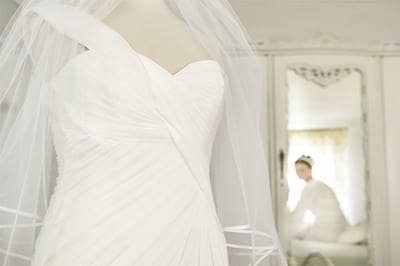 You've likely spent hours upon hours trying on countless wedding dresses until you found the perfect one for your day. After all, it's your time to shine and all eyes will be on you. You want your perfect dress to stay perfect for your big day. If you are traveling with your wedding dress, you'll want to take some extra precautions so it gets to your destination safely and unharmed.
9 tips for flying with your wedding dress
Contact the airline

Call the airline to ask the best way to travel with your dress. They may allow you to store it in a closet on the airplane or in an overhead bin. Carrying it on is recommended because then you know it made it on the plane, and you can, (hopefully) keep an eye on it throughout the flight. Checking it with baggage is not advised because, even if you add a "FRAGILE" sticker on it, there is no guarantee it will make it through the flight without damage.

Pack your wedding dress properly

To help retain the shape of your dress and avoid wrinkles, place acid-free, non-colored tissue paper within the sleeves and bodice. Hang your dress in a dry cleaning bag for extra protection against liquids and then place it in a protective travel garment bag, folding the train once at the bottom so that it fits.

Arrive at the airport early

It is recommended that you add an extra 30 minutes to the time you would have originally left for the airport. This will allow you more time to get through security. Security may open your garment bag to check the contents, causing you to repack your dress before your flight.

Board early

If you can, try to be one of the first people to board the plane. This will give you more options for empty overhead bins or space in the closet, plus it will give you a chance to talk to a flight attendant and ask for his or her insight. Once the dress is stored, be sure to monitor the overhead bins and/or closet, so others do not place their baggage on top of your dress. You may want to enlist the support of that friendly flight attendant you were chatting with earlier!

Find an open seat

A no-cost option that may be available on flights that aren't full is to give your dress its own seat! It doesn't hurt to ask your flight attendant if there are any available where you can place your dress for the flight. Ideally, you'll want to keep your dress company in this situation.

Buy a plane ticket for your dress

If you have extra money in your budget and don't want to leave anything to chance, consider buying your dress a one-way seat to your destination. This will give you peace of mind that it will arrive safely and untouched. Plus, with your dress as your seatmate, you'll get to keep a close eye on it, and know it is out of harm's way.

Hang your dress

Once you arrive at your destination, immediately remove your dress from all packaging and hang it. Inspect your dress thoroughly after arriving – don't wait until it's "I do" time to find a surprise bigger than a wrinkle. As for wrinkles, they may fall out of the dress within one to two days, but if they don't, see number 8.

Steam your dress

Before you leave home, check into what options are available at your destination. Ask your hotel or resort if they have onsite steaming services or can recommend a reliable dry cleaner nearby that would steam out any wrinkles caused by the flight. Other options can include hanging your dress in the bathroom to use the steam from a hot shower to eliminate any wrinkles or even bringing your own steamer if you feel confident in your abilities!

Consider buying wedding insurance

Even with the most careful packing, true damage to your dress can occur that is out of your control. If your dress is lost, ripped, stained or otherwise damaged while in transit, Markel's wedding cancellation insurance can help pay for this damage or for the cost of a replacement! Get a free, no obligation insurance quote now, and learn how you can protect yourself (and your dress).
Taking extra care of your wedding dress when traveling is just one of the many items on your long list of "to dos" before you say "I do." We hope these tips help you get your dress to your destination safe and sound, so you can enjoy your big day in your dream dress.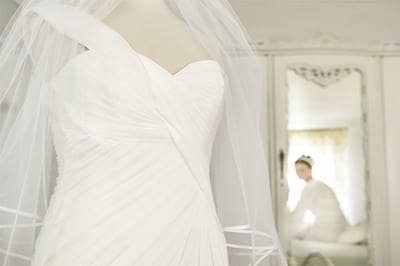 Was this helpful?
Wedding insurance policies as low as $75.
Get a fast, free wedding insurance quote online and get the protection and peace of mind you deserve. Or call +1.800.236.2453 to speak with a wedding insurance specialist.
Markel Specialty is now offering event cancellation and postponement policies and endorsements in select states. To learn more, including to see if Markel's event cancellation or postponement policy and endorsement is currently available in your state, please visit our communicable disease notice page.