Creating the perfect wedding ambience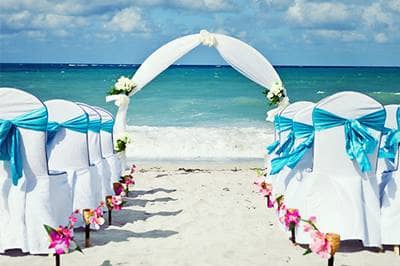 To help create the perfect wedding day ambience for yourself, family, and friends, you need to give some thought to what it is you want the day to accomplish. Of course, number one on the agenda is marrying the love of your life. But weddings also serve as life celebrations and get togethers for extended families and groups of friends, get togethers that may only happen once a decade. A wedding reflects your personality, so take some time to think about what it is that would make your wedding truly unique and special for you, and then create the perfect environment for you.
Keep your loving celebration homey
There's nothing like a wedding right on the family farm or at your own home. Whether you are planning a giant celebration or a small affair, you can scale up or scale down a celebration depending on your desire and your location's size. By having your wedding in a familiar place, and one you can go back to and visit occasionally, you create a more intimate connection with the day for both you and guests.
Rent out a one of a kind location
Find that special gem and hold onto it. If you want a day to remember, look for your dream location, and then go for it. One such location is Optimist Volunteers for Youth Camp, located in San Gregorio, CA.
Take a look at the background there and just imagine you, your special someone, and your families and friends under the shade of magnificent redwoods and listening to a the sound of a creek running by. There are special locations out there that you can find with a little bit of digging. Once you strike gold, get that reservation in as soon as you can.
Put your feet up at a resort
Rather than deal with the hustle and bustle of planning your own event, why not just put your feet up at a resort? You can let the buffet do the catering, and use the beautiful beach as a backdrop for the ceremony. Even better, you don't need to worry about decorating, as the resort will already have everything done up. It depends on your preference of course, but a resort is a great way to go for people who want a relaxing wedding.
Take some time to look inside and see what kind of wedding you want, and you'll find that with just a little bit of research, you can create your perfect wedding.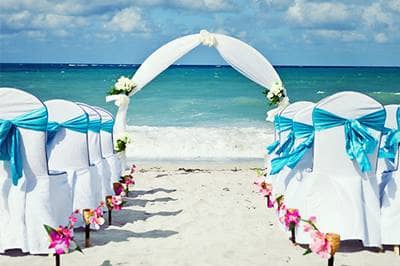 Was this helpful?
Wedding insurance policies as low as $75.
Get a fast, free wedding insurance quote online and get the protection and peace of mind you deserve. Or call +1.800.236.2453 to speak with a wedding insurance specialist.
Markel Specialty is now offering event cancellation and postponement policies and endorsements in select states. To learn more, including to see if Markel's event cancellation or postponement policy and endorsement is currently available in your state, please visit our communicable disease notice page.