Tips on selecting your wedding reception menu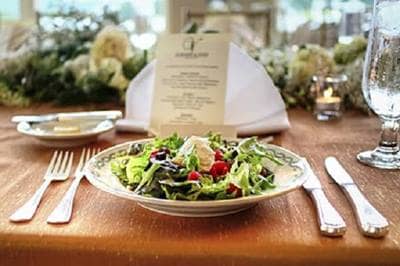 5 tips to creating your wedding reception menu
Choose the serving style

There are five main ways you can choose to serve your food: plated meals, buffet, family style, serving stations, or heavy appetizers served by wait staff. When selecting a style, think about how it will work within the space available as well as the formality of your event. Work with your wedding reception venue to determine which of the styles will work best for the room layout and their wait staff. Decide which of these will also fit into your budget.

Seasonal options

Consider the time of year for your wedding. Selecting wedding food options that are local and in season will be fresh and less costly because it will not need to travel a far distance. When you think about the season, you can choose options that feel right for that time of year. For example, in the heat of the summer you can serve lighter, refreshing items such as iced tea, lemonade, crisp salads, chicken, and fish. In winter, heavier selections work well such as steak, creamy soups, and hot chocolate. Another wedding food idea would be to pick a menu that complements the theme of your chosen wedding style.

Incorporate your favorites

It's your wedding, so you want to eat what you like and share it with your guests! Is there a special food item that means something to you and your partner? Maybe your first date was at an Italian restaurant, so serving chicken Parmesan is appropriate. When creating your wedding menu, give thought to what your guests might like as well. Is the wedding in an area that is known for a certain kind of food that out of town guests can't get elsewhere? Serving this local, popular food would be a great way to make your guests feel welcome in a new town. Be sure to ask the venue/caterer what their signature dishes are and what has received the best reviews.

Consider food allergies and dietary needs

It is common to give your guests a choice of two dinner options for plated meals. If you are having a buffet or serving family style, it is important to create a menu with a variety of different food items to accommodate your guests. If you know a guest has a food sensitivity or allergy, you can request that the caterer offer some options. It is nice to include a note in the invitation to contact you for special dietary requests.

Aesthetically pleasing presentation

Of course you want your meals to be delectable, but you also want the food to look appetizing. Ask your caterer how the items will be presented and if they can be creative and work with your theme. The perfect presentation adds an extra special touch that makes a great impression.
We hope these tips help you choose a delicious wedding menu that receives rave reviews. As you prepare for your wedding day, another idea to consider is buying wedding insurance. Markel offers wedding cancellation insurance, which reimburses you for lost deposits and non-refundable amounts if you have to cancel or postpone your wedding due to unforeseen circumstances such as extreme weather, venue bankruptcy, or vendor no-shows. Coverage can be purchased anytime at least 14 days before your event, and policies start as low as $130.
Markel also offers wedding liability insurance, protecting you from incidents such as property damage to the venue or if someone gets injured at your event. Up to $2 million in wedding liability insurance can be purchased from Markel any time up to the day before your event. Policies start as low as $75.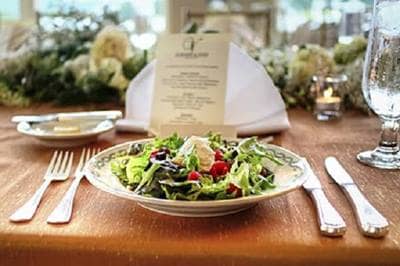 Was this helpful?
Wedding insurance policies as low as $75.
Get a fast, free wedding insurance quote online and get the protection and peace of mind you deserve. Or call +1.800.236.2453 to speak with a wedding insurance specialist.
Markel Specialty is now offering event cancellation and postponement policies and endorsements in select states. To learn more, including to see if Markel's event cancellation or postponement policy and endorsement is currently available in your state, please visit our communicable disease notice page.