Tips to dress up your wedding reception tables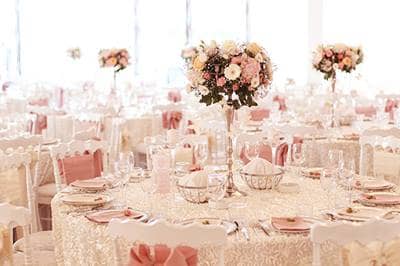 5 tips to touch up your table decorations
Incorporate your color

One way to tie your wedding theme together is to incorporate your color scheme into your overall wedding table design. You can choose napkins that either compliment the color of your bridesmaids' dresses or match them perfectly. You can also match the color to the table numbers, flowers, favors, and accents such as ribbons around the wedding centerpiece.

Touch up your chairs

You can dress up your chairs, too. To save on costs, decorate every other chair, a couple of the most visible chairs at each table, or chairs at every other table. Think bows, flowers, tulle, sashes, ribbons, ruffles, and chair covers.

Create eye-catching centerpieces

Your wedding centerpieces will be the center of attention at the table and should be given careful thought. Centerpieces do not need to be the exact same at every table. A simple wedding idea is to mix it up with a few different designs that you can disperse throughout the reception. You can use flowers at some and candles at another, or a combination of candles and flowers. This will create a dynamic effect. Consider the height of the centerpiece, so as not to obstruct the view of your guests. Choose either tall vases, candelabras, pedestals, or go with low designs. Candles of varying heights can add romance to your tables. If you choose bold colors for your centerpiece, be sure to make the rest of your décor simple and clean.

Add flair with table runners

A table runner is a perfect textural element to add a touch of class to your wedding tables. Table runners come in many different patterns and materials such as solid color, stripes, floral, chevron, lace, satin, polyester, and many more options. You can choose the length of the fabric so that it ends just over the edge of the tables, or run it so that it romantically cascades off the tables close to the floor. Tie them with bows or ribbon at the ends for a dramatic effect.

Use your napkins as decor

In addition to incorporating color into your table decorations with napkins, you can use decorative napkin rings for an added adornment. They are one of the easiest ways to dress up a table setting. There are many DIY options for napkin rings, such as using burlap and faux flowers, lace, rope, or ribbon. You can even wrap your menu around the napkin. Another unique idea is to fold your napkin into different origami designs. You can create swans, bows, hearts, flowers, or you can fold it into a pocket to hold your menu or utensils.
We hope these tips help you dress up your wedding tables to add the special touches you desire for your dream wedding. As you prepare for your wedding day, another idea to consider is buying wedding insurance. Markel offers wedding cancellation insurance, which reimburses you for lost deposits and non-refundable amounts if you have to cancel or postpone your wedding due to unforeseen circumstances such as extreme weather, venue bankruptcy, or vendor no-shows. Coverage can be purchased anytime at least 14 days before your event, and policies start as low as $130.
Markel also offers wedding liability insurance, protecting you from incidents such as property damage to the venue or if someone gets injured at your event. Up to $2 million in wedding liability insurance can be purchased from Markel any time up to the day before your event. Policies start as low as $75.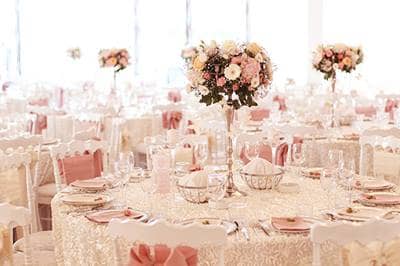 Was this helpful?
Wedding insurance policies as low as $75.
Get a fast, free wedding insurance quote online and get the protection and peace of mind you deserve. Or call +1.800.236.2453 to speak with a wedding insurance specialist.
Markel Specialty is now offering event cancellation and postponement policies and endorsements in select states. To learn more, including to see if Markel's event cancellation or postponement policy and endorsement is currently available in your state, please visit our communicable disease notice page.