Wedding shower games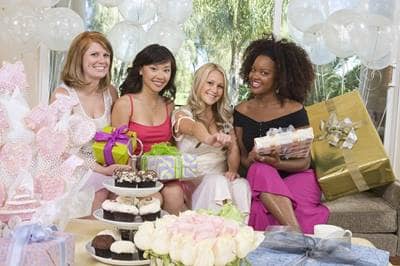 5 fun wedding shower games
Find the guest

This is a great way to break the ice and get guests talking to each other. Each attendee is provided a list of statements such as "find someone who wears contact lenses." Guests are asked to mingle and find a person who matches each statement. The person who finds a match for all statements listed, in the shortest amount of time wins the game.

What's in your purse?

This hilarious game gets guests talking and laughing as they dig through their purses and check off items on a list provided. Who would have thought Aunt Sally carried a screwdriver? Each item on the list is worth a certain amount of points. The woman with the most points wins a prize.

20 questions about the bride and groom

This popular game reveals who knows the bride and groom best. Questions may include: Where did the couple meet? Where was their first date? How long did they date before getting engaged? And so on.The person with the most correct answers wins. It's also a great way for attendees to get to know the bride and groom on a more personal level.

He says, she says

The guests are provided a list of statements once said by either the bride or the groom about the other. Guests circle who said what. The person with the most correct answers wins. This is a perfect way to get to know the bride and groom as a couple.

Bridal shower bingo

This is a fun game to play as the bride opens the gifts. Bingo cards will contain items the couple registered for. Guests mark off the items as they are opened. Candy kisses can be used for the markers. Five in a row wins.
We hope these games give you some great ideas for your wedding shower.
As you prepare for your day, another tip to consider is buying wedding insurance. Markel offers wedding cancellation insurance, which reimburses you for lost deposits and non-refundable amounts if you have to cancel or postpone your wedding due to unforeseen circumstances such as extreme weather, venue bankruptcy, or vendor no-shows. Coverage can be purchased anytime at least 14 days before your event, and policies start as low as $130.
Markel also offers wedding liability insurance, protecting you from incidents outside of your control such as property damage to the venue or if someone gets injured at your event. Up to $2 million in wedding liability insurance can be purchased from Markel any time up to the day before your event. Policies start as low as $75.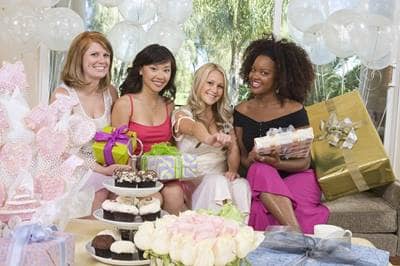 Was this helpful?
Wedding insurance policies as low as $75.
Get a fast, free wedding insurance quote online and get the protection and peace of mind you deserve. Or call +1.800.236.2453 to speak with a wedding insurance specialist.
Markel Specialty is now offering event cancellation and postponement policies and endorsements in select states. To learn more, including to see if Markel's event cancellation or postponement policy and endorsement is currently available in your state, please visit our communicable disease notice page.