Winter wedding ideas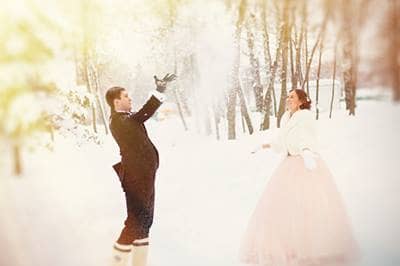 The summer season is synonymous with the term "Wedding Season." When most brides start planning their weddings, they don't tend to see what dates are available in the winter months. But, what many people don't realize is just how beautiful (and economical) winter weddings can be. Here are some things to keep in mind as you start planning your winter wedding.
10 ideas for winter weddings
Venue selection

Choose a ceremony and a reception site that can be easily warmed before guests arrive. If your ceremony site is drafty, such as an old church, you can provide blankets in each pew to keep your guests warm and cozy. Choosing a reception venue with a fireplace is a beautiful, warming touch. One other thing to keep in mind is the distance from the ceremony to the reception site, as bad weather can be a factor in traveling from one to the other. Having both the ceremony and reception in one spot may be a wise choice for a winter wedding.

Be prepared for a blizzard

If Mother Nature decides to dump 8 inches of fresh powder the morning of your wedding, make sure you have a backup plan, and your guests are aware of it. Your backup plan should include alternate routes to your ceremony and reception site as well as time delays to your original schedule if inclement weather should occur on your big day.

Clear icy paths

Even if snow is not in the forecast, check with your venue for their snow removal protocol. Verify that they will be shoveling and applying melting salts prior to and during your event. Also see if the venue will provide extra mats to absorb moisture and have a process in place that promptly removes any snow/sleet that may have been tracked inside by guests to help protect your guests from slipping and falling. And don't forget to protect your dress from the slush!

Use umbrellas

In case of snow or sleet, it's a nice gesture for ushers to use umbrellas to escort your guests from the parking lot to covered areas.

Provide a coat check

A coat-check is a must have for a winter wedding. Not only is it convenient for your guests, it keeps your reception looking elegant and free of coats draped over chairs.

Warm and seasonal drinks

Upon your guests' arrival at the reception, offer them warm and seasonal drinks. These can include hot chocolate, hot apple cider, coffee, cappuccino, hot buttered rum, spiced wine, and eggnog. Consider a coffee and hot cocoa bar with extras to add such as marshmallows, whipped cream and chocolate shavings.

Hearty comfort dinner

When planning your menu, choose foods to match the season. Stuffed mushrooms and other warm hors d'oeuvres will be appreciated in the cold weather, but if you have your heart set on the venue's amazing bruschetta, go ahead! It's your wedding! Add comfort to the main meal with sides such as creamy soup, whipped potatoes and roasted vegetables.

Warm and winter-themed desserts

Many winter weddings offer warm dessert bars where guests can indulge in s'mores and chocolate fondue. You can also offer more decadent desserts that may be considered too rich for summer affairs: death-by-chocolate, mini rum cakes, warm cobbler and crumbles.

Décor

Every season has elements that make decorating fun, and the winter season is no different. Low lighting from candles or strands of mini-lights gives a romantic, intimate feel to your evening. Crystal icicles, shimmery linens and silver and gold accents lend a magical aura. Plus if you are planning your event around the holidays, you may be able to take advantage of your venue's holiday decorations for little or no cost.

Wedding favors

Winter or holiday-themed favors can add a special touch to your day. Consider votive candles, chocolates, small photo frames, ornaments, individual boxed small cupcakes, personalized packets of hot chocolate or coffee, or personalized lip balm.
We hope these winter wedding ideas help make your special day even more wonderful. Another tip to consider is wedding cancellation coverage to protect you if winter weather takes a major turn for the "worst." Markel offers wedding cancellation insurance, which reimburses you for lost deposits and non-refundable amounts if you have to cancel or postpone your wedding due to extreme weather such as a blizzard. (Sorry - coverage is not provided for your run-of-the-mill snow shower.) Coverage can be purchased anytime up to 14 days before your event, and policies start as low as $130.
Call 855-480-9757 to get a free event insurance quote and learn more.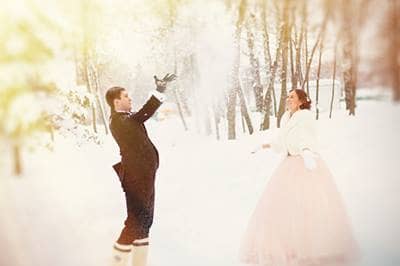 Was this helpful?
Wedding insurance policies as low as $75.
Get a fast, free wedding insurance quote online and get the protection and peace of mind you deserve. Or call +1.800.236.2453 to speak with a wedding insurance specialist.
Markel Specialty is now offering event cancellation and postponement policies and endorsements in select states. To learn more, including to see if Markel's event cancellation or postponement policy and endorsement is currently available in your state, please visit our communicable disease notice page.