Nominate your camp and get the safety recognition it has earned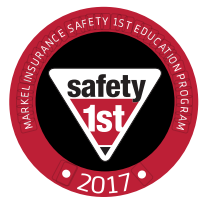 2017 Safety 1st camp nominations are now open!
Self-nominate your camp for Markel's Safety 1st recognition
Markel's Safety 1st program recognizes camps that have shown an outstanding commitment to safety.
Think of Markel's Safety 1st certificate as a report card from your insurance company, giving you an A+ for safety.
If your club is selected to receive the Safety 1st designation for 2017, you will receive:
Markel's Safety 1st certificate

A press release you can use to announce your achievement

Rights to use the official Safety 1st logo

A listing in Markel's nationally distributed Risk Management News

Recognition in the Safety 1st Hall of Fame:

markelcamp.com
Resources for your wildfire protection strategies
The fires of the 2017 California fire season have been devastating. These catastrophes are no doubt having camps throughout the country evaluate their plans on how to respond to a wildfire event. There are a number of resources designed to help property owners protect their property against the exposure and damages that a wildfire can cause. The National Fire Protection Association (NFPA) provides insight on one approach: "Firewise."
According to the NFPA, the best approach to wildfire preparedness involves utilizing the wide range of Firewise practices that individuals and communities can take to reduce their vulnerability to wildfire. The National Firewise Communities Program offers a series of practical steps and/or supporting documents in the following areas:
Land use and community development planning

Improved planning for fire protection infrastructure

Cooperative approaches to forest management adjacent to wildland/urban interface communities

Regulation, codes, deed restrictions

Improved education of interface residents (including landscaping and home construction and design)

Response to and evacuation of interface areas

Firewise Communities and Firewise Communities/USA Recognition Program
By implementing at least one recommended mitigation measure or planning element, individuals and communities can begin to protect against the risk of fire in the wildland/urban interface. Examples of Firewise techniques for property owners include the following:
Creating a defensible space around residential structures by thinning trees and brush

Choosing fire-resistant plants

Selecting ignition-resistant building materials

Positioning structures away from slopes

Working with fire fighters to develop emergency plans
Markel's Risk Management article, Controlling wildland fire exposures is an article that is also designed to help to support a camp's desire to mitigate the property damage a wildland fire can cause.
As you evaluate trees and brush that are potential fuel sources, the U.S. National Park Service offers the following insight and tips regarding hazardous fuels that can drive a fire's progress. Hazardous fuel reduction generally requires the reduction of surface and ladder fuels. It may also require thinning out dense tree stands, preserving mature sized trees in some instances. It can be accomplished using fire, biological methods, and mechanical treatments to remove or modify fuels in forested areas. Thinning trees, removing underbrush, and limbing trees are done using hand-crews (team of temporary agency employees with solid reputations as multi-skilled professional firefighters) or machines. Cut material is ground into chips or piled and burned during the winter. Biological methods include grazing and are usually not used in national parks.
Ladder fuels, as defined by The National Wildfire Coordinating Group, are fuels which provide vertical continuity between strata, thereby allowing fire to carry from surface fuels into the crowns of trees or shrubs with relative ease. They help initiate and assure the continuation of crowning.
Pruning ladder fuels is one way to control them as an ignition source. The following are pruning guidelines recommended by the Oregon State University Extension Service:
Remove ladder fuels, by pruning limbs up to 8 to 10 feet from the ground.

Avoid pruning more than 50 percent of the live crown at any one time. Be sure to leave the tree with at least a one-third live-crown ratio (that is, with a live, green crown that is at least one-third of the tree's total height).

Use a sharp tool and make clean cuts.

Use proper pruning techniques; avoid flush cuts and "coat hangers".

In hardwoods, prune during the dormant season.

In conifers, avoid pruning in spring and early summer, when the sap is flowing, to reduce the potential for pitch moth attack.

Don't paint pruning wounds with dressing. It's not effective and might even seal in decaying organisms.

Dispose of pruning trash to reduce fire risk.
Well-established fuel breaks may help reduce a wildfire's ability to progress. The USDA – Natural Resources Conservation Service provides three strategies that may enhance your efforts. They are road maintenance and roadside disking and brown strips, mowed fuel breaks, and vegetative fuel breaks.
Typical design features of roadside brown strips:

10-20 ft. wide along one or both sides of existing roads to catch road fire starts

Plowed to mineral soil

Implemented in late spring-early summer after last major precipitation

Annual treatment at a minimum; re-plowed or chemically treated when plants reemerge

Typical design features of mowed fuel breaks:

100-300 ft. wide from centerline of existing road (each side)

Vegetation mowed as low as possible; retreatment when shrub re-regrowth >15 in average

Implemented when fire risk is low

Herbicide application as needed to reduced annual grasses and other weeds

Seeding where herbaceous perennial plant density inadequate

Typical design features of greenstrips:
100-300 ft. wide from centerline of existing road (each side)

Site preparation for seeding for 1-2 growing seasons

Herbicide application as needed to reduce annual grasses and other weeds

Seeding conducted in fall/winter

Grazing deferment during establishment period needed

Grazing used as a tool to maintain low fuel volume and seeded species
It is also recommended that you confer with your local authority having jurisdiction (AHJ) about your current and future wildfire management plans.
---
References
"Wildland Fire Management". NFPA Fire Protection Handbook 20th Edition, Vol. II. Chapter 5.National Fire Protection Association. Quincy, MA. 2008.

"Wildland Fire: Hazardous Fuel Reduction". U.S. National Park Service. Web October 17, 2017

Technical Note No. 66. "Fuel Breaks to Reduce Large Wildfire Impacts in Sagebrush Ecosystems". USDA – Natural Resources Conservation Service. Boise, ID

Holmberg, J. and Bennett, M. "Reducing Hazardous Fuels on Woodland Property".Oregon State University Extension Service. EC 1576-E. August 2008
Do you have bleachers at camp? Depending on their age, maintenance, and height, bleachers may require additional safety protocols to help keep them a viable seating alternative for members.

The Consumer Product Safety Commission (CPSC) recommends that bleachers be thoroughly inspected at least quarterly to identify any structural damage or degradation that could compromise safety. This should include inspecting the end caps to insure they are in place and secure. Low-rise bleachers that are less than four rows tall will have a top row height at or below 30 inches. A national building code requires any bleacher with a top row height over 30 inches be enclosed in a chain link or picket guardrail system or some other similar protective device.

If your bleachers' top row height exceeds 30 inches, the CPSC provides the following guidelines to prevent fall hazards:
Guardrails should be present on the backs and portions of the open ends of bleachers where the footboard, seatboard, or aisle is 30 inches or more above the floor or ground below. Bleachers with the top row nominally 30 inches above the ground may be exempt from this recommendation.

The top surface of the guardrail should be at least 42 inches above the leading edge of the footboard, seatboard, or aisle, whichever is adjacent.

When bleachers are used adjacent to a wall that is at least as high as the recommended guardrail height, the guardrail is not needed if a 4-inch diameter sphere fails to pass between the bleachers and the wall.

Any opening between components of the guardrail or under the guardrail should prevent passage of a 4-inch sphere.

Any opening between the components in the seating, such as between the footboard, seatboard, and riser, should prevent passage of a 4-inch diameter sphere where the footboard is 30 inches or more above the ground and where the opening would permit a fall of 30 inches or more.

The preferable guardrail design uses only vertical members as in-fill between the top and bottom rails. If there are openings in the in-fill that could provide a foothold for climbing, the widest measurement of the opening where the foot could rest should be limited to a maximum of 1.75 inches. Opening patterns that provide a ladder effect should be avoided.

If chain link fencing is used on guardrails, it should have a mesh size of 1.25 inches square or less.

Aisles, handrails, non-skid surfaces, and other items that assist in access and egress on bleachers should be incorporated into any retrofit project where feasible.

The option of replacing bleachers as opposed to retrofitting should be considered.

Materials and methods used for retrofitting should prevent the introduction of new hazards, such as bleacher tipover, bleacher collapse, guardrail collapse, and contact or tripping hazards.

Bleachers should be thoroughly inspected at least quarterly by trained personnel and problems corrected immediately. Records of these actions should be retained.

A licensed professional engineer, registered architect, or company that is qualified to provide bleacher products and services, should inspect the bleachers at least every two years and provide a written certification at such time that the bleachers are fit for use.
To learn more about bleacher retrofitting, visit to cpsc.gov.
---
Reference
"Guidelines for Retrofitting Bleachers". Pub. No. 330.000011. U.S. Consumer Product Safety Commission. Washington. D.C. 2005