Keeping splits in the Dojo and not on the sidewalk or parking lot
Slip-and-fall accidents occur frequently during the winter months, mainly when snow and ice are not adequately cleared from walkways and parking lots. You can prevent these accidents by following these guidelines:
Clear walkways of ice and snow as soon as practical. Make advance arrangements with your snow removal vendors so sidewalks, parking lots, and walkways are cleared before people arrive.
Watch for black ice. This is the hard to see ice that forms when water melts and refreezes on dark asphalt and other surfaces, making it difficult to see. Downspouts and areas near curbs can become especially hazardous. Keep ample amounts of ice-melting compound on hand to treat these areas. Black ice can also form when the air is at 32 degrees or below at the surface and rain is falling, the ground temperature causes the precipitation to freeze upon impact, thus creating ice.
Check drainage grates for frozen surfaces. These may require more frequent treatment with ice melt and additional warning signage dependent on their location.
Be mindful of icicles hanging from overhead gutters located above walkways. There is a good chance there might be icy conditions beneath them.
Place skid-resistant, absorbent mats at all entrances. Inspect the mats frequently so they do not become tripping hazards. Replace frayed or curled mats immediately.
Check your floors frequently and mop up excess moisture immediately. Post "Wet Floor" signs as necessary.
When weather conditions are adverse, monitor entrance ways more frequently than when conditions are dry. So stay alert to weather conditions and be ready to respond accordingly.
Document your efforts to keep your floors, sidewalks, and parking areas hazard free in your daily log or calendar and retain these records. This documentation should include date, time, and who completed any inspection/clean-up.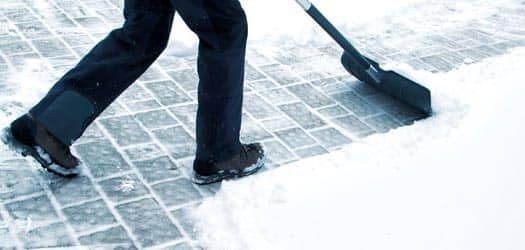 If you lease your property, review your contract so you are clear on what your responsibilities are during adverse weather conditions. Know whether you are responsible for the sidewalk in front of your business, the parking area, and any common property you share with others. Whether you own or lease your facility, if you manage snow and ice remediation yourself, be sure to make arrangements to have it done should you close your dojo for the holidays.
Safety 1st award program – we want your feedback!
How do you maintain essential safety principles including:


Concussion management
Abuse prevention
Safe sparring
Are there any risk management/safety tips or topics of interest you want to share?
Let us hear from you with this brief
3-question survey
.