<< Risk management library home


Child care
Our Loss Control Specialists can help you Keep Safety 1st!
By working with Markel, you are working with a company that understands the child care industry. Our Senior Loss Control Specialists are recognized as specialty experts. With years of industry experience in helping control risk management exposures, Markel's loss control and risk management services are uniquely geared to help you better control the exposures that pose a risk to your business. By offering loss control and risk management solutions, we can help lower those risks – risks that can often have a detrimental bottom line impact on your center. We understand how to help you manage your business risk exposures which can, in turn, help you achieve better performance results.
Markel offers these exceptional risk management and loss control tools:
Markel Safety 1st Education Program which includes access to our Risk Management Library containing articles and safety guides to help you prevent losses, maintain a safer environment and support staff training.
Access to child abuse risk management training and educational services from Praesidium, Inc.
Online safe driving courses offered at a discounted rate through BrightFleet driver training.
Ask a safety question - get answers to your safety concerns.
Safety 1st
Celebrate your safety success with Markel's Safety 1st designation program! View 2017's Safety 1st Award recipients.
Safety guides
Read detailed Safety Guides for more information on common activities and loss control.
Safety videos
Markel now has access to a new safety video platform, Training Network NOW. Available to Markel customers at no cost, is access to wide variety of safety training videos which include supplemental materials such as quizzes, trainer guides, and completion certificates. Please complete the registration form to request your access.

Inspecting playground equipment
Maintain your playground equipment and do regular inspections to prevent injury.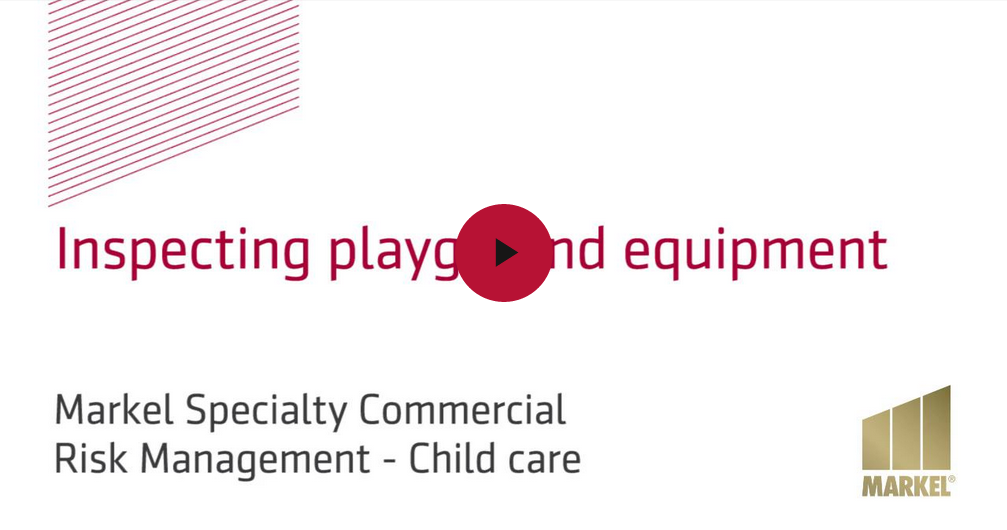 ---
Select a link below to view or print our risk management articles:
Commercial child care

In-home child care
Property
Commercial vehicle safety