By: Mike Huss, Loss Control Supervisor
The publication Life Safety Code, known as NFPA (National Fire Protection Association) 101 is a consensus standard widely adopted as local regulation throughout the United States. The bulk of the standard addresses building construction, protection, and occupancy features necessary to minimize danger to life from the effects of fire. An evacuation may be required for a number of different emergencies, including: fire or smoke, chemical spills, natural disasters, extended power outages, bomb threats, biological agents, and workplace violence. Knowing how to evacuate your workplace is very important for safety. Any training relating to this should be taken seriously including participating in routine evacuation drills.
OSHA Regulations
The Occupational Safety and Health Administration (OSHA) has issued specific regulations, located in 29 CFR 1910.34-39, for exit routes, emergency action plans, and fire prevention plans. Additionally, local building codes and fire codes may also have specific requirements. Elements include;
Exit Route
An "exit route" is a continuous and unobstructed path of exit travel (including all vertical and horizontal areas) from any point within a workplace to a place of safety (including refuge areas). An exit route consists of three parts: the exit access; the exit; and the exit discharge.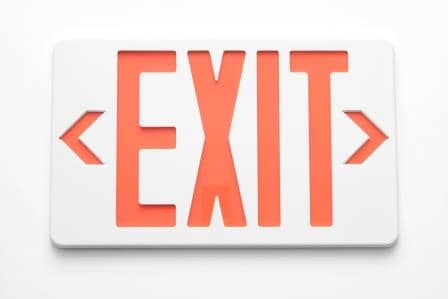 Exit access - is that portion of an exit route that leads to an exit,
Exit - is that portion of an exit route that is generally separated from other areas to provide a protected way of travel to the exit discharge,
Exit discharge – is the part of the exit route that leads directly outside or to a street, walkway, refuge area, public way or open space with access to the outside.
Building and fire codes require a certain number and type of exit routes depending on a number of factors including: the number of occupants/personnel, size of the building, arrangement of the building and type of occupancy. A minimum of two unobstructed exit routes located as far away as practical from each other is required in a building to provide occupants with different ways to leave the building during an emergency. Never use exit routes as storage areas (either permanently or temporarily) as this decreases the capacity of the route.
Marking exits
Each exit, or doorway leading outside, must be marked with a clearly visible and distinctive sign that reads "EXIT." These signs often include an arrow indicating the direction to the exit. Additionally, the line-of-sight to an exit sign must clearly be visible at all times. Exit signs must either be self-lighting or made of reflective material and illuminated. The self-lighting or sign illumination must work even during a power outage. The exit sign must have distinctive colors that do not blend into the background. Exit signs cannot be obstructed or concealed in any way. Any nonexit doorway or passage that might be mistaken for an exit must be marked with a sign that reads "NOT an EXIT" or a sign that indicates the door's actual use, such as "Basement," "Closet," etc.
Emergency lighting
Emergency illumination is required for buildings as stipulated by OSHA. Each exit route must be reliable and adequately lighted, even during a power outage, so that an employee or occupant with normal vision can see along the exit route. Regularly check the emergency lighting system to ensure that it will function during an actual emergency. Most emergency lights have a small "push to test" button somewhere on the casing. Push and hold this button for thirty seconds to test the bulbs and battery. The lights should come on and remain at the same brightness level for a full thirty seconds. If the lights or bulbs dim or don't work, then contact an electrician for repairs.
Exit doors
All doors along the exit route, including the final door that leads outside, must open readily. The doors must open from the inside so that evacuating occupants/employees only need to push them open as they go along the exit route. If a door needs to be pulled open, then a bottleneck would be created and evacuating employees could be injured. Also, doors must open without the use of keys, tools, or any other special knowledge. A device such as a panic bar that locks only from the outside is permitted on exit discharge doors.
Move away from the building
The exit route must eventually lead outside to an open space, street, or walkway that allows employees or occupants to easily move away from the building. Employees should proceed directly to the evacuation meeting point, where a count will be made to ensure that all personnel are accounted for.
Alarm systems
Alarm systems must have a distinctive signal that warns employees and occupants of emergencies. The key word is "distinctive." The alarm cannot sound like other common noises in the workplace, such as buzzers or equipment alarms. Also, any visual signals must be different from the other lights in the facility. The emergency alarm must be seen and heard in every area of the workplace, and tested on a regular basis.

---
Works Cited
National Fire Protection Association - Life Safety Code 101
Occupational Safety and Health Administration, Subpart E – Exit Routes and Emergency Planning 29 CFR 1910.34-39
By: Kim Coonrod, Director, Loss Control
NIOSH launches 'PPE info' database
Washington – NIOSH has developed a database it calls a "comprehensive tool" for searching "relevant standards, associated product types, target occupational groups, basic conformity assessment specifications and accredited lab information" related to personal protective equipment.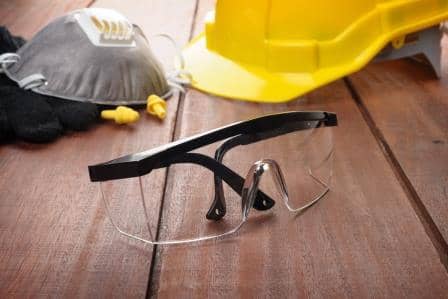 The PPE-Info Database is intended for developers, manufacturers, purchasers and end users of PPE. It includes regulations and consensus standards from the federal government, ANSI-accredited standard development organizations and the International Organization for Standardization.
FMCSA to allow safety devices to be mounted on interior CMV windshields
Washington – Video event recorders, lane departure warning systems, collision mitigation systems, transponders and other safety devices may now be mounted on the inside windshield of commercial motor vehicles, according to a final rule published Sept. 23 by the Federal Motor Carrier Safety Administration.
In the rule, FMCSA amends the Federal Motor Carrier Safety Regulations to permit voluntary mounting of select devices that use "vehicle safety technology" as defined in the Fixing America's Surface Transportation Act. The devices may be placed no more than 4 inches below the upper edge and no more than 7 inches above the lower edge of the area swept by the vehicle's windshield wipers.
OSHA fact sheet explains the importance of analysis in creating safe workplaces
The Occupational Safety and Health Administration (OSHA) and the Environmental Protection Agency (EPA) urge employers (owners and operators) to conduct a root cause analysis following an incident or near miss at a facility.
A root cause is a fundamental, underlying, system-related reason why an incident occurred that identifies one or more correctable system failures.
By conducting a root cause analysis and addressing root causes, an employer may be able to substantially or completely prevent the same or a similar incident from recurring.
OSHA Fact Sheet – The Importance of Root Cause Analysis During Incident Investigation
NIOSH ladder safety app now includes step ladders
Climbing for work? NIOSH's award-winning Ladder Safety app, first released in 2013 to provide user-friendly guides and interactive tools for extension ladder selection and safe use, now includes step ladder safety resources and other enhancements based on user input. Download the free app, available in English and Spanish (adaptive to which language is set on your device), for iPhone/iPad or Android. Visit the NIOSH Ladder Safety Mobile Application website to learn more.
By: Courtney Rosengartner, Sr. Loss Control Specialist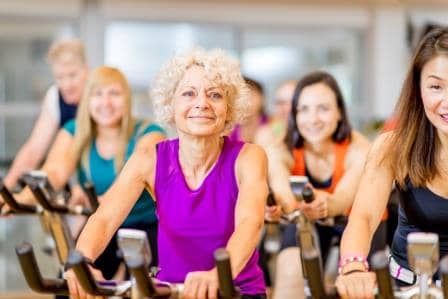 A 42 year old fitness instructor was injured while teaching a workout class when she fell off the aerobic step and landed on her wrist. She suffered a fracture with a dislocation from the impact of the fall. She had surgery two days later and was restricted from lifting. Fortunately, after physical therapy she returned to full duty with normal wrist motion and a well healed incision after just a few months.
As with any workplace, fitness centers have their share of risks. The large pieces of equipment create the most severe safety hazards for this type of environment. The equipment cables can break or malfunction, causing injury to a trainer or a fitness facility member. To avoid this type of injury, machines should be installed, regularly inspected and maintained by a professional. Also, long power cords can become a trip, fall and fire hazard so it is important to be mindful of cord placement and ensure the proper outlet amperage is available.
As an instructor or trainer, proper lifting is a skill that one would have as a professional; however, overlifting or overtraining is also a concern. Trainers may feel they need to maintain a certain appearance and could overtax their bodies. Another risk involves cleaning supplies and proper use of chemicals. It may be necessary to use gloves or other protective equipment when cleaning the facility and equipment. Posting wet floor signs is also necessary to avoid injury of workers and members. Finally, Automatic External Defibrillators (AED's) should be available inside the facility as well as well-stocked First-Aid kits.
Class focus – health and fitness facilities (clubs)