Coverage options for your wedding
We take the worry out of wedding planning.
Every wedding is different. That's why our wedding insurance can be customized to meet your specific needs and budget. For over 10 years, Markel Specialty has been the leader in providing the most complete wedding coverage at an affordable price. Markel offers two distinct coverages to protect your wedding that can be purchased individually or, for the best protection, as a package.
Get complete coverage for your wedding and save!
Save up to 15% by purchasing both wedding liability and wedding cancellation coverage, and rest easy knowing your wedding is protected.
Wedding liability insurance
Markel offers wedding liability insurance, protecting you from incidents such as property damage to the venue or if someone gets injured at your event. The policy covers:
The ceremony and reception
The rehearsal dinner within 48 hours of the event
Set-up and removal within 24 hours of the event
Wedding liability insurance provides the following:
Bodily injury and property damage liability – Up to $2 million in coverage can be purchased anytime up to 1 day before your wedding.
Host liquor liability insurance – Coverage can be removed if you will not be serving alcohol at your wedding, saving you even more!
Primary coverage – If you have a covered claim, your Markel Specialty wedding insurance policy will pay first before any other insurance policy kicks in.
Event cancellation add-on – For only $50, you can add $5,000 of event cancellation coverage to your Markel Specialty wedding liability policy.
Guaranteed to meet your venue's insurance requirements—or your money back!
Many venues now require event liability insurance for weddings. Generally, the venue will be named as "additional insured" on the certificate of insurance. We includes this with your policy at no extra cost.
Wedding cancellation insurance
In the event that you have to cancel or postpone your wedding due to an unforeseen circumstance, our wedding cancellation policy covers non-refundable deposits and non-reimbursable expenses. Examples of unforeseen circumstances include:
Extreme weather (hurricanes, tropical storm, even an epic snowstorm)
Accident or illness of an immediate family member
Military deployment
Vendor goes out of business
Wedding cancellation protection also covers additional expenses you may incur to avoid cancelling your wedding, and pays for other losses or damages, such as:
Lost wedding rings
Loss of deposits due to vendor no-shows
Lost or damaged wedding gifts
Damage to special event attire
Lost or damaged photography or videography
Last minute changes
And more!
Exactly how much coverage do you need? Here are the recommended coverage limits based on your total overall event budget: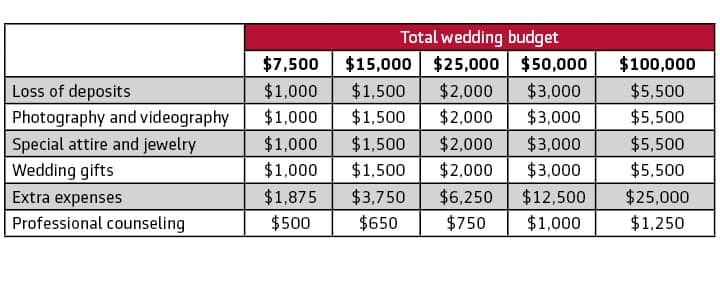 Business and corporate events must have less than 500 attendees and are subject to underwriting approval. Event liability coverage for business and corporate events is not available in FL. Insurance, coverage, and discounts are subject to availability and qualifications and may not be available in all states. Coverage descriptions listed are intended to be brief and do not replace actual policy language. For questions or a complete definition of coverages and discounts available to you, please call a Markel insurance specialist at 800-236-2453.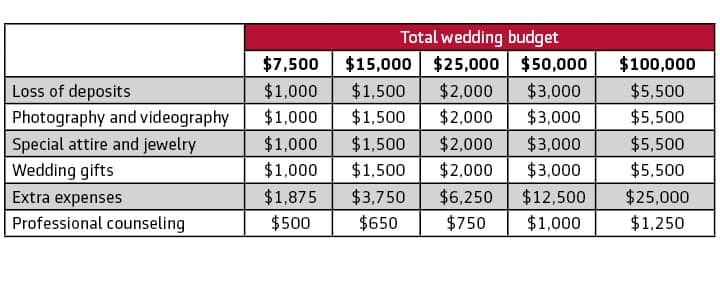 Get a quote
Get a free, no-obligation quote to protect your wedding today!