Blake Messerli
Markel horse insurance specialist since 2019
About Blake
A lifelong love of Arabian horses, coupled with a decade of dedication to working as a professional horse trainer for internationally respected Arabian horse operations like Lady Jean Ranch, Chrishan Park Arabians, Steve Heathcott Arabians and Liberty Meadows Training Center, has given Blake Messerli a unique insight into the world of horsemen. For over thirty years Blake has owned and exhibited exceptional Arabian show horses, including the beautiful multi-National Champion, Tribute Thyme SA.
Blake has now focused his years of expertise and credentials in the horse business to inform his position of several years with Stafford and Stafford Insurance, Harrisonville, Missouri. Messerli's focus is in construction risk insurance, as well as farm, ranch and equine insurance.
Blake is married to Hannah Sartori Messerli, a lifelong horseman and Office Manager for Whilhite and Frees Equine Hospital, Peculiar, Missouri.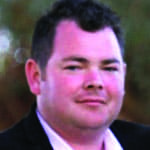 +1.816-809-3819
messerliequinesolutions@gmail.com

Raymore, MO 64083
Buy insurance online now