Getting your business ready for winter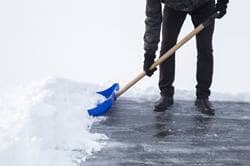 By: Libby Reed
Risk Solutions Specialist
In areas where winter months bring freezing temperatures, business owners are faced with a new set of risks to address. Protecting your property, equipment, employees, and customers is essential and can reduce costs associated with cold-weather hazards. Preparing for and adapting to these hazards is called winterizing.
Taking the time to winterize your business property has many benefits, including
Preventing damage to your building and equipment

Reducing costs from

Property damage repairs

Insurance premiums

Time and energy spent on losses

Less risk of employees or customers experiencing a slip, trip, or fall, or another accident due to snow and ice
Pre-winterization activities
Inspect major building systems, such as heating, plumbing, and electrical, as well as the roof. Make any necessary repairs to ensure operability and maximum protection before outdoor temperatures drop.

Reduce energy consumption and related costs in the winter by taking the following steps:

Eliminate air leaks and drafts by ensuring that external doors, window frames, attics, basements, etc., are properly sealed with caulking and weatherstripping.

Ensure the thermostat is located in an area that will give accurate indoor temperature readings and properly regulate heating capabilities. Thermostats should be placed on an interior wall away from direct sunlight, air vents, kitchen areas, doors, and windows.

Ensure pipes are heated or insulated to prevent them from freezing and bursting, which can cause flooding and significant water damage. Also, know how to locate the main water shut-off valve on the premises in an emergency to stop the water flow and reduce damages.

Plan for snow and ice removal services, which may include obtaining a contract from a professional contractor. The prompt removal of snow will not only help protect employees and customers from slips, trips, and falls but reduce the likelihood of damage to pavement and buildings from heavy snow impaction.
Ongoing winterization activities
Conduct regular facility inspections during winter months so any problems can be quickly identified and remediated.

Ensure that snow removal activities are adequate and take additional precautions to keep employees and customers safe:

Use salt or sand products on icy sidewalks, walkways, and parking areas.

Place absorbent, non-slip rugs or mats inside doorways for people to wipe their feet in snowy or icy weather. Make sure that rugs and mats are secured to the floor with no curling edges or corners to prevent trips.

Make use of wet floors signs in indoor areas where melted snow and ice from shoes may accumulate.
This article does not address all of the potential risks of winter weather, so please consult with professional contractors to protect your business. For more tips on winterization, click here to access the risk navigator document "Winterization of low-rise to mid-rise buildings."
Sources:
https://markel.widen.net/s/qnlpdg8hlj/risk-navigator-winterization-buildings
https://justenergy.com/blog/winter-energy-saving-tips/
https://www.theontimeexperts.com/is-your-thermostat-placement-all-wrong/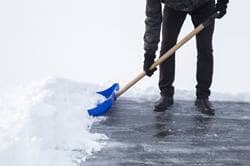 This "document" is intended for general information purposes and should not be construed as advice or opinions on any specific facts or circumstances. The content of this document is made available on an "as is" basis, without warranty of any kind. This document cannot be assumed to contain every acceptable safety and compliance procedure or that additional procedures might not be appropriate under the circumstances. Markel does not guarantee that this information is or can be relied on for compliance with any law or regulation, assurance against preventable losses, or freedom from legal liability. This publication is not intended to be legal, underwriting, or any other type of professional or technical advice. Persons requiring advice should consult an independent adviser or trained professional. Markel does not guarantee any particular outcome and makes no commitment to update any information herein, or remove any items that are no longer accurate or complete. Furthermore, Markel does not assume any liability to any person or organization for loss or damage caused by or resulting from any reliance placed on this content.
Markel® is a registered trademark of Markel Group Inc.
© 2023 Markel Service, Incorporated. All rights reserved.
Was this helpful?