Lessons from losses – forklift operations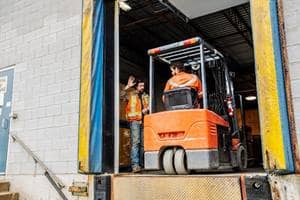 By: Courtney Rosengartner
Sr. Risk Solutions Specialist


While unloading slabs of granite from a forklift, an individual sustained a fracture when the vehicle ran over his foot. Due to the significance of his injury, he was taken to the hospital and kept overnight. His foot required surgery, but due to the swelling, it was postponed for a few weeks. Return to work opportunities were unavailable because of his inability to stand, and he was out of work for a number of months. His injury required routine pain medication, physical therapy, and crutches for several months. Besides enduring intense physical pain, this mishap incurred over $150,000 in claim costs.
Powered industrial trucks are addressed in specific Occupational Safety and Health Administration (OSHA) standards. These
standards
address how to protect workers from injury and ensure that operators are competent through regular, required training. Hazards posed by forklifts vary by the type of truck, workplace and the conditions present. Forklift operators and employees working around these operations are at risk of hazards such as collisions, falls, tip-overs, and struck-by conditions. In general, follow these guidelines outlined by OSHA:
Forklift operations
Always operate the vehicle according to the manufacturer's instructions

Always wear a seatbelt when the forklift has one

Never exceed the rated load and ensure it is stable and balanced

Do not raise or lower the load while traveling

Keep a safe distance from platform and ramp edges

Be aware of other vehicles in the work area

Have clear visibility of the work area and ensure you have enough clearance when raising, loading, and operating a forklift

Use proper footing and the handhold, if available, when entering the lift

Use horns at cross aisles and obstructed areas

Watch for pedestrians and observe the speed limit

Do not give rides or use the forks to lift people
Safety training

Only trained and certified workers may operate a forklift

Ensure operators are trained on types of trucks in use
Forklift maintenance
Remove from service any forklift found to be in unsafe operating condition

Keep forklifts in clean condition, free of excess oil and grease

Repair and maintain according to the manufacturer's recommendations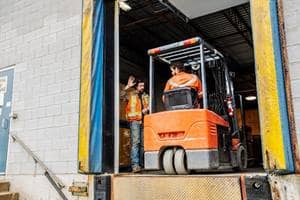 This "document" is intended for general information purposes and should not be construed as advice or opinions on any specific facts or circumstances. The content of this document is made available on an "as is" basis, without warranty of any kind. This document cannot be assumed to contain every acceptable safety and compliance procedure or that additional procedures might not be appropriate under the circumstances. Markel does not guarantee that this information is or can be relied on for compliance with any law or regulation, assurance against preventable losses, or freedom from legal liability. This publication is not intended to be legal, underwriting, or any other type of professional or technical advice. Persons requiring advice should consult an independent adviser or trained professional. Markel does not guarantee any particular outcome and makes no commitment to update any information herein, or remove any items that are no longer accurate or complete. Furthermore, Markel does not assume any liability to any person or organization for loss or damage caused by or resulting from any reliance placed on this content.
Markel® is a registered trademark of Markel Group Inc.
© 2023 Markel Service, Incorporated. All rights reserved.
Was this helpful?