Lessons from losses – pest control worker safety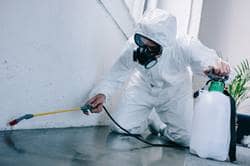 By: Courtney Rosengartner
Sr. Risk Solutions Specialist

A pest control worker falls on ice outside a customer's residence. Meanwhile, another pest control worker trips and falls down the stairs at a client's home. At a different company, a pest control worker sustains heat exhaustion working outdoors in heavy equipment. Furthermore, various other pest control employees get hurt while completing work, commonly due to slips and falls from heights and same level surfaces.

Pest control workers have one of the highest rates of injuries and illnesses of all occupations (bls.gov). Injuries may occur when driving to job sites, while being exposed to weather conditions, from inadequate personal protective equipment, from a fall, and while exposed to harmful chemicals, rodents, snakes or insects. Pest control workers may also experience strains and sprains from kneeling, bending, crawling into narrow spaces, and lifting equipment.

The following includes some tips to mitigate injuries to pest control workers:
Develop a workplace safety program that includes safety training, regular safety meetings, and addresses potential hazards
Develop a personal protective equipment program that requires appropriate gear when working with pesticides; including proper clothing, gloves, goggles, and respirators
Develop a respiratory program that includes regular fit testing
Develop a hazard communication program
Develop a fall protection and ladder safety program
Develop a program for working in confined space that addresses adequate lighting conditions
Develop a fleet safety and driver safety program that includes a cell phone policy that prohibits driving while using mobile devices
Develop a heat illness prevention program that provides for routine breaks for water
Develop a material handling program that addresses proper lifting and using handcarts or other lifting tools
The above is not an exhaustive list of items covering pest control worker safety. You may wish to seek professional and legal advice for comprehensive safety guidance.

Source: US Bureau of Labor Statistics (bls.gov)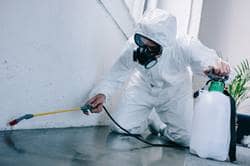 Was this helpful?