Lessons from losses – fall from roof
By: Courtney Rosengartner
Sr. Risk Solutions Specialist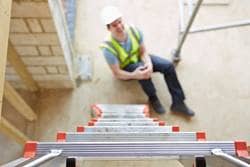 While cleaning gutters at a residential property, a maintenance worker fell from a roof. He suffered fractures and lacerations to various parts of his body and endured intense physical pain. Due to the age of employee and severity of this accident, his injuries are permanent and life changing. This claim incurred over five hundred thousand dollars in expenses and relentless discomfort for the injured worker.
A fall from a roof won't have a positive outcome, but this worker was fortunate to survive the single story fall. However, fatal falls can occur from ground level. In 2019 alone, 144 deaths occurred from same level falls. Falls are the second leading cause of unintentional-injury related deaths and in some industries, it is the leading cause. In 2019, 244,000 workers were seriously injured in falls that required time off (National Safety Council).
Falls are preventable. Plan ahead. When working from a ladder, roof or scaffolding, assess the task and use the correct equipment for the job. Determine if working from a height is necessary or if there is another way to do the task safely. Ask "is there a tool that can be used from the ground that can handle the job?" A garden hose, power washer, or a leaf blower have attachments available that may be able to handle certain structures without stepping onto a ladder. Assess these risks before performing the task as accidents can happen at any time and on any level.
The National Safety Council offers these tips when working from heights:
Discuss the task with coworkers and determine what safety equipment is needed
Make sure you are properly trained on how to use the equipment
Scan the work area for potential hazards before starting the job
Make sure you have level ground to set up the equipment
If working outside, check the weather forecast; never work in inclement weather
Use the correct tool for the job, and use it as intended
Ensure stepladders have a locking device to hold the front and back open
Always keep two hands and one foot, or two feet and one hand on the ladder
Place the ladder on a solid surface and never lean it against an unstable surface
A straight or extension ladder should be one foot away from the surface it rests on for every four feet of height and extend at least three feet over the top edge
Securely fasten straight and extension ladders to an upper support
Wear slip-resistant shoes and don't stand higher than the third rung from the top
Don't lean or reach while on a ladder, and have someone support the bottom
Never use old or damaged equipment; check thoroughly before use
Source: National Safety Council



This "document" is intended for general information purposes and should not be construed as advice or opinions on any specific facts or circumstances. The content of this document is made available on an "as is" basis, without warranty of any kind. This document cannot be assumed to contain every acceptable safety and compliance procedure or that additional procedures might not be appropriate under the circumstances. Markel does not guarantee that this information is or can be relied on for compliance with any law or regulation, assurance against preventable losses, or freedom from legal liability. This publication is not intended to be legal, underwriting, or any other type of professional or technical advice. Persons requiring advice should consult an independent adviser or trained professional. Markel does not guarantee any particular outcome and makes no commitment to update any information herein, or remove any items that are no longer accurate or complete. Furthermore, Markel does not assume any liability to any person or organization for loss or damage caused by or resulting from any reliance placed on this content.
Markel® is a registered trademark of Markel Group Inc.
© 2023 Markel Service, Incorporated. All rights reserved.
Was this helpful?