Don't overlook the valve stems
Hello everyone! For some of us, the weather is not yet ready for riding and I'm jealous of those of you in the warmer states!
I want to point out a very overlooked area of safety for all motorcycles no matter what size or class of riding you do. Most of us keep track of the age, wear, and pressure specs of our tires, but what about the valve stem?
I had a customer come in recently and ask why his tire pressure was always low. The tires were only 2 years old and had low mileage. After initial inspection of the suspect tire, everything looked good. However, I heard air leak when I applied the air pressure gauge to the valve stem. Pushed a little sideways on the rubber stem and it completely broke off! It was dry rotted bad! If this had come off while riding, the results could have been disastrous.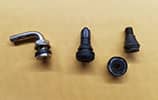 When you have a new tire installed ALWAYS ask for new valve stems. Also, when you're not sure, do the simple test of wiggling the stems and see if you can detect any cracking. Even the steel stems have rubber seals and can leak.
I also found an emergency valve stem online that can be installed on the road without anything but a wrench. Having a tire repair kit, portable air pump, and emergency valve stem could save you a big headache.
Be safe out there. Check your ride, front to back, and enjoy!
---
About the author:
John "Woody" Graves is one of those "been there, done that" motorcycle enthusiasts. Enthusiast is actually an understatement; it's his passion and way of life. Woody's passion dates back to 1971 when he started motocross racing. Since then he's dedicated his life to restoring, fabricating, and repairing motorcycles. Today, Woody owns and operates his own motorcycle shop in Waukesha, WI. He's also still racing and a promoter of the Midwest Vintage MX series. With five decades of experience working on his own bikes, building race bikes, and servicing customer's bikes, he has the knowledge to help you enjoy your ride and stay safe on the road.
Was this helpful?
Policies as low as $50 per year.
Enter your zip code to get a fast, free online quote. Plus, save up to 35% with our discounts, including 10% just for switching.
Or call +1.800.236.2453 to speak with a motorcycle insurance specialist.