Motorcycle winterization tips
Keeping the battery charged all winter will save you a headache come spring. Plus, it will extend the life of your battery. With maintenance, a good 5-year battery will often times only last 3 years or more with some luck. Batteries like to be kept charged, either by the bike's charging system or by a remote charger. I highly recommend adding a hookup for a remote charger for several reasons, one being convenience. Batteries in modern bikes can be a real challenge to access.
The number one thing I hear each spring is that a bike won't idle or won't run unless the choke is on. If you live where it is cold or your bike will not be used for a period of time, there a few things you can do to minimize the risk of an expensive trip to the dealer and needless downtime.
Options: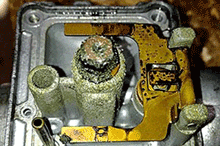 Be sure to fill your tank up, add a good stabilization additive, and run it to ensure the additive has gone through the fuel system.
If your bike has carbs, drain them or turn off the fuel and run until it stalls.
Use good gas! Another option is to use non-ethanol fuel before storing. I have even used 100 octane fuel (not cheap) to keep carbs clean.
One last thing, do what you can to keep the critters at bay. They love to cause havoc in air filters, exhaust, and to your wiring harness.
Many riders have their own favorite ritual, but don't just park it and forget it! Air up your tires, change your oil and filter, and pray for a short winter!
---
About the author:
John "Woody" Graves is one of those "been there, done that" motorcycle enthusiasts. Enthusiast is actually an understatement; it's his passion and way of life. Woody's passion dates back to 1971 when he started motocross racing. Since then he's dedicated his life to restoring, fabricating, and repairing motorcycles. Today, Woody owns and operates his own motorcycle shop in Waukesha, WI. He's also still racing and a promoter of the Midwest Vintage MX series. With five decades of experience working on his own bikes, building race bikes, and servicing customer's bikes, he has the knowledge to help you enjoy your ride and stay safe on the road.
Was this helpful?
Policies as low as $50 per year.
Enter your zip code to get a fast, free online quote. Plus, save up to 35% with our discounts, including 10% just for switching.
Or call +1.800.236.2453 to speak with a motorcycle insurance specialist.