Life jacket safety tips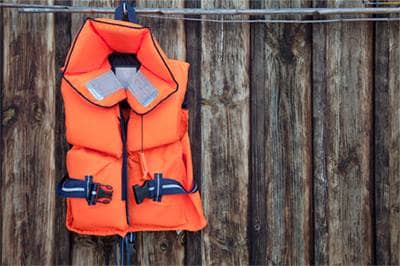 Life jackets can save lives and are a vital part of water safety. According to the Centers for Disease Control and Prevention (CDC) 72% of boating deaths that occurred during 2010 were caused by drowning with 88% of victims not wearing a life jacket. Wearing a life jacket or personal floating device (PFD) while participating in water activities greatly increases your chances of survival because they are meant to keep your head above water and help facilitate breathing. During a boating accident, even the greatest swimmer is at risk of drowning in treacherous, cold waters where loose or falling debris can knock anyone unconscious. Here are some important safety tips to keep you safe the next time you are out on the water.
Make sure everyone on your boat has a life jacket that is in good shape with no holes or tears. Check the life jackets each time before use.
To ensure life jackets are safe, they should be tested by Underwater Laboratories and be U.S. Coast Guard-approved.
The life jackets should be worn at all times while on a boat.
It is important to have the right life jacket for the type of excursion you are participating in. Navigating a boat in rough seas is different than cruising on calm inland waters. Life jackets are grouped into these categories: Type I, II, III or V. Check the U.S. Coastguard website for the correct type of life jacket for your trip.
Choose a life jacket that fits properly according to the person's height and weight. If the life jacket is too big, you can slip through. To test it, put it on, raise your hands over your head, have someone pull up on its shoulders. If it goes over your chin, it's too big. For children, you may need one with a crotch strap. A life jacket should be snug, but should not be too small. If it is too small, it won't keep you afloat.
Make sure everyone knows how to properly put on and secure their life jackets, including children.
All straps should be belted in the right buckle and loose straps should be securely tucked in.
Test the buoyancy of the life jacket in shallow waters. Do this by relaxing your body and tilting your head back to see if it keeps your chin above water and you can easily breathe.
While on a boat, children under 13 must wear an appropriate United States Coast Guard-approved life jacket. There may be additional requirements for children by state. The United States Coast Guard offers some additional information here. A life jacket should be easily spotted in water. Bright orange is a good color choice, especially for children.
The law requires life jackets to be worn during certain water activities such as water skiing and tubing. Verify your state's requirements before you head out.
Inflatable toys or water wings are not approved safety devices and should not be used in place of life jackets in emergency situations.
Don't use harsh detergents to clean your life jacket as it can weaken the fabric and make the life jacket lose its effectiveness.
When storing, make sure the life jacket is dry, but do not leave it in the sun for a long time because heat can weaken the fabric and decrease its buoyancy. Do not dry it in a dryer or by a radiator, as this will also decrease buoyancy. Store in a dry location with good ventilation so that it does not get mildew.
We hope these life jacket safety tips help protect you and your loved ones, so you can enjoy your boat and the water. For further protection in the water, Markel Boat Insurance offers specialized boat insurance that protects you if you become legally liable for someone else's injuries or property damage due to a boating accident. In addition, Markel boat insurance also offers protection to help cover the cost to repair or replace your boat in the event of an accident, fire, theft, or vandalism.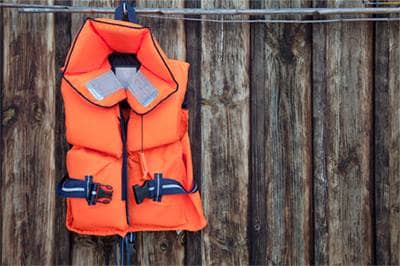 Was this helpful?
Policies as low as $100 per year.
Get a fast, free online quote today and get the protection and peace of mind you deserve. Plus, save up to 35% with our discounts.
Or call +1.800.236.2453 to speak with a boat insurance specialist.