Top snowmobile trails in the U.S.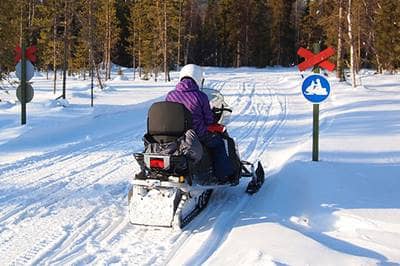 Looking for beautiful, scenic places in the United States to snowmobile? We've compiled a list of some of the top snowmobile trails to explore based on their popularity with snowmobile enthusiasts.
1. West Yellowstone, Montana
With an average snowfall of 143 inches from November to mid-April, West Yellowstone, next to Yellowstone National Park, offers 400 miles of groomed, beautiful scenic snowmobile trails. In West Yellowstone, you are allowed to go off the trails to explore powder play areas and back country riding. Some of the areas require guides, so you can go deep into the park in remote locations to experience the natural beauty of moonscapes and wildlife, such as bison. The area offers lodging conveniently located to start your snowmobile adventure practically from your front door. West Yellowstone also hosts The World Snowmobile Expo.
2. Eagle River, Wisconsin
Snow is plentiful in Eagle River and home to some of the best snowmobile trails in the world. In fact, the area attracts thousands of snowmobilers every year and it is often referred to as the "Snowmobile Capital of the World." The "Eagle River 500" is the name for the 500-mile well-maintained, clearly marked trail network that travels across frozen lakes, hills and valleys, and through forests. The city hosts the annual Eagle River Championship Snowmobile Derby and houses the International Snowmobile Hall of Fame. Plus, the city creates a spectacular Ice Palace out of 3,000 ice bricks every year, which has become a very popular attraction.
3. Western Upper Peninsula, Michigan
Ranked as one of the best places to snowmobile by many magazines and various groups, Upper Peninsula Michigan boasts over 2,000 miles of snowmobile trails. Throughout winter, the area is consistently snowy with more than 200 inches of snowfall in the season and is often called "Big Snow Country." With breathtaking views and heavy snowfall, it is considered a snowmobiler's paradise.
4. Old Forge, New York
Considered the snowmobile capital of the east, the 500 miles of groomed and scenic Old Forge snowmobile trails offers gorgeous views of the Adirondack mountains and connects with all major snowmobile trails in Central and Upstate New York. There are also many places to stop along the trail system for dining, fuel, accommodations and entertainment.
5. Wyoming's Continental Divide Snowmobile Trail (CDST)
The Continental Divide is considered the number one snowmobile trail in the west. It runs from Lander, Wyoming to West Yellowstone, Montana (see #1 on our list). With 675 miles of trail, it includes breathtaking vistas of several different mountain ranges and passes through Grand Teton National Park and Yellowstone National Park. For the adventurous and experienced, you can head off-trail for more challenging terrain.
We hope this list of top snowmobile trails leads you to your next adventure and it's a fun and safe experience. For further protection, your snowmobile needs insurance coverage that's different from what your auto or homeowners insurance can provide. That's why Markel offers specialized snowmobile insurance coverage tailored to meet your unique needs.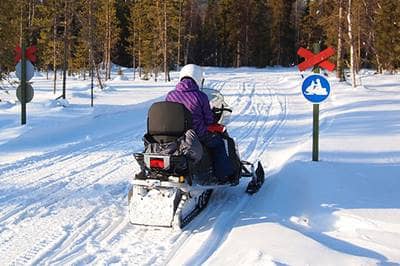 Was this helpful?
Policies as low as $50 per year.
The trail starts here. Get a fast, free online quote today and get the protection and peace of mind you deserve. Plus, save up to 35% with our discounts.
Or call +1.800.236.2453 to speak with a snowmobile insurance specialist.