Warehousing and storage hazards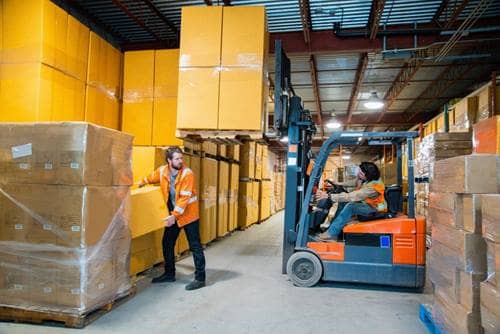 By: Mike Huss
Risk Solutions Consultant
The warehousing and storage industry includes establishments operating facilities for general merchandise, refrigerated goods, and other products. These establishments may also provide logistical services relating to goods distribution. Potential hazards in this rapidly growing, fast-paced industry include those associated with powered industrial trucks (forklifts), ergonomics, material handling, hazardous chemicals, slip/trip/falls, and robotics. The most common injuries are musculoskeletal disorders (mainly from overexertion in lifting and lowering) and being struck by powered industrial trucks and other materials handling equipment.
Ergonomics and musculoskeletal disorders
Warehousing industry workers may be exposed to ergonomic risk factors in the workplace, such as lifting and lowering heavy items, bending, reaching overhead, pushing and pulling heavy loads, working in awkward body postures, and performing the same or similar tasks repetitively. Exposure to these known risk factors increases workers' risks of musculoskeletal disorders (MSDs), such as muscle strains, lower back and shoulder injuries, carpal tunnel syndrome, tendinitis, and others. Stress and fatigue associated with a fast work pace and/or the use of continuous performance monitoring systems can exacerbate MSDs. Ergonomics — the science of fitting jobs to people — helps lessen muscle fatigue, increases productivity, and reduces the number and severity of work-related MSDs.
Powered industrial trucks (forklifts)
Warehouses are a constant moving mix of people, vehicles, and equipment. Forklift operators must be properly trained to ensure understanding of the working environment. This prevents injuries to operators and pedestrians and damage to other warehouse equipment (storage racks, stored materials, etc.).
Slips, trips, and falls
Falls in the workplace continually show as a large injury producer. Warehousing environments are no exception and can present unique challenges because of the ever-changing environment, as products are loaded, unloaded, and moved around the warehouse. Employers should understand the legal requirements and best practices for preventing injuries and fatalities caused by slips, trips, and falls in the workplace.
Hazardous chemicals
Where chemicals are present in a warehouse and workers may be exposed to those chemicals under normal conditions of use or in a foreseeable emergency, employers are subject to Occupational Safety and Health Administration's (OSHA's) Hazard Communication Standard (HCS) (29 CFR 1910.1200). Warehousing establishments are frequently cited under the requirements of this standard.
Emergency planning
Emergencies and disasters can strike anywhere and at any time, bringing workplace injuries and illnesses with them. Employers and workers may be required to deal with an emergency when it is least expected, and proper planning before an emergency is necessary to respond effectively. Warehousing employers should have an emergency plan that describes (1) what is expected of workers in the event of an emergency, including provisions for emergency exit locations and evacuation procedures, (2) procedures for accounting for all workers and visitors, and (3) the location and use of fire extinguishers and other emergency equipment.
Electrical hazard
Warehouses often contain many different types of electrical equipment and systems, and employers are responsible for ensuring they are free from recognized hazards.
Lockout/tagout
Warehouse operations need a lockout/tagout program to ensure that before any worker performs any servicing or maintenance, the machine or equipment is isolated from the energy source and rendered inoperative. The program must include three core components: energy control procedures, employee training, and periodic inspections. Workers required to perform these operations should be trained, and all workers should have a working knowledge of the program. Employers should also evaluate the procedures at least annually to ensure they are being followed and meet OSHA requirements.
Heat illness
Heat illness can affect warehousing workers performing physical work in high ambient heat, especially if the facility is also humid and not climate controlled.
Automation and robotics
In today's warehouse, there are many new hazards that come from new tools developed to improve efficiency. There are many automated tools in the warehouse such as conveyors, labelers and automated pallet wrappers. When not properly integrated into the workplace, these tools can create significant struck-by, caught-between, and other hazards. Additionally, some warehouses may utilize industrial robots. Workers should be made aware of the unique hazards associated with working around or with industrial robots.
Refrigerated warehousing
Refrigerated warehousing is the storage of any temperature controlled product to maintain freshness and/or safety. Temperatures are usually less than 50°F and can be subzero. There are several ways refrigerated warehouses are used. Manufacturers (e.g., meatpackers) may have private cold storage facilities to warehouse products before shipping to customers. End users may have cold storage facilities to store temperature controlled products after they've received them (e.g., a large hotel may purchase refrigerated food in bulk and store these items on site). Most commonly, cold storage is outsourced to a third party logistics provider (3PL), where products stay until they are ready to be shipped to an end user. Workers working in cold conditions may be at risk of cold stress, including hypothermia and frostbite. In addition, working in cold conditions may exacerbate musculoskeletal disorders (MSDs).
Source: Occupational Safety and Health Administration (OSHA) | osha.gov
This "document" is intended for general information purposes and should not be construed as advice or opinions on any specific facts or circumstances. The content of this document is made available on an "as is" basis, without warranty of any kind. This document cannot be assumed to contain every acceptable safety and compliance procedure or that additional procedures might not be appropriate under the circumstances. Markel does not guarantee that this information is or can be relied on for compliance with any law or regulation, assurance against preventable losses, or freedom from legal liability. This publication is not intended to be legal, underwriting, or any other type of professional or technical advice. Persons requiring advice should consult an independent adviser or trained professional. Markel does not guarantee any particular outcome and makes no commitment to update any information herein, or remove any items that are no longer accurate or complete. Furthermore, Markel does not assume any liability to any person or organization for loss or damage caused by or resulting from any reliance placed on this content.
Markel® is a registered trademark of Markel Group Inc.
© 2023 Markel Service, Incorporated. All rights reserved.
Was this helpful?